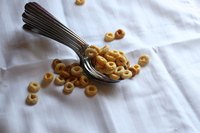 Many hotel chains throughout the United States offer a complimentary breakfast with the room rate. Most complimentary breakfasts come in a continental-style, which includes cereals, pastries, fruits and sausages. However, some hotels offer a buffet-style breakfast, which provides a wider selection of food and drinks. Children are allowed to eat for free at some hotel chains, including the Holiday Inn and Holiday Inn Express.
Holiday Inn
The Holiday Inn and Holiday Inn Express hotel chains are members of the Intercontinental Hotels Group. These two chains have locations in the United States, Canada, Europe and Asia. Many of the Holiday Inn and Holiday Inn Express locations offer a complimentary breakfast, referred to as the Express Start breakfast bar. All of the Holiday Inn and Holiday Inn Express hotels have a policy that allow children under 12 to dine for free.
Wyndham Worldwide
The Wyndham Worldwide Corporation is a hotel conglomerate and includes hotel chains such as Days Inn, Super 8, Ramada, Howard Johnson and Travelodge. Most of the hotel chains in this conglomerate offer guests complimentary breakfasts. Each chain has its own name for the complimentary breakfast it serves. Days Inn calls its complimentary breakfasts the "Daybreak Breakfast," while Super 8 hotels provide the "Superstart Breakfast."
Hilton Worldwide
The Hilton Worldwide hotel company has luxurious hotel chains such as the Waldorf Astoria. This hotel chain also covers the full-service Hilton and Doubletree hotels and moderately-priced accommodations, which include Hampton Inns and Homewood Suites. Both luxurious and moderately-priced Hilton hotels provide complimentary breakfasts, although it is more prominent in its Hampton Inn and Homewood Suite locations. The name of the Hampton Inn complimentary breakfast is On the House.
Marriott
The Marriott hotel chain has locations in the United States, South America, Southeast Asia, Africa and Europe. The Marriott hotels with the corporation's namesake, such as the JW Marriott and Renaissance brands, usually are luxurious accommodations with upscale restaurants. However, some of the more inexpensive Marriott hotels -- Springhill Suites, Courtyard and Fairfield Inn -- provide complimentary breakfasts. Some of the complimentary breakfasts at Marriott hotels are served buffet-style; this is common for Residence Inn establishments.
Choice Hotels International
The Choice Hotels International is an United States-based hotel chain and includes hotels such as Clarion Inn, Sleep Inn, Comfort Suites and Econo Lodge. These reasonably-priced hotels offer continental breakfasts. Most of the continental breakfasts at Choice Hotels include coffee, pastries and fruits. One of the Choice Hotel chains, Quality Inn, offers a buffet-style breakfast.