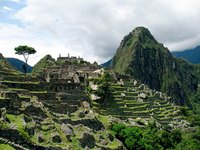 With a long history of beautiful landscapes and ancient indigenous civilizations, Latin America has proven to be a gold mine for natural wonders and architectural tourism. Spanish is spoken throughout the vast majority of Latin America and locals are known for their warmth and hospitality. If you speak basic Spanish and wish to travel to Latin America, there are a few locations that you don't want to miss.
Machu Picchu
Located in the region of Cusco, Machu Picchu is one of the man-made wonders of the world and the most famous tourist attraction in the country. Built by the Incas in the 15th century as a spiritual refuge, the strategic design and location have impressed archaeologists for centuries. The fortress was built in granite at the top of a high mountain, surrounded by dense rain forest, which protected the original inhabitants from attacking tribes. Located at over 2,000 meters of altitude, you will need a guided tour guide to reach this destination.
Chichén Itzá
Elected as one of the New Seven Wonders of the World in 2007, this Mayan ruin suite is one of Mexico's monumental trademarks for tourism. Chichén Itzá is located 117 miles west of Cancun, a common party destination for college-aged Americans and Europeans. It is a must-see tourist destination for those traveling to the Yucatan peninsula region. The most familiar structure is the Temple of Kukulcan, a giant pyramid with hundreds of steps on either side. Other well conserved ruins within the Mayan site are The Great Ball Court and The Temple of The Warriors. You may either rent a car or sign up for an all-inclusive bus tour to reach the site.
Tulum
If you have chosen to visit Cancun and want to avoid the massive crowds at Chichén Itzá, the Mayan ruins of Tulum are another great tourist destination. Located 82 miles south of Cancun, the ruins are truly unique as they overlook to the eastern shore of the Yucatan peninsula. The ruins are reachable by bus or rental car and each structure within the archaeological site is labeled with detailed information in several languages. After spending a few hours touring the ruins, take a staircase down to the beach and enjoy the refreshing crystal clear water.
Mitad del Mundo Ethnographic Museum
Imagine standing in the exact middle of the world, or even better, standing with one foot in each of the world's hemispheres. Located in the beautiful city of Quito, Ecuador, this Museum sits directly upon the 0-0'-0" latitude coordinates, in the exact center of the earth. A painted line runs up the stairs of the entrance to the museum, dividing the world into the northern and southern hemispheres. The museum focuses on the various ethnic grounds that make up the population of this South American country. Outside of the museum, once you take an amazing photograph of yourself straddling the equator, check the shops for some cheap, local crafts.