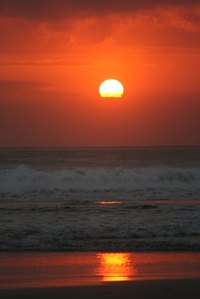 From the beaches of Bali to the fast-paced streets of Singapore, Asia has much to offer the single traveler. Ideal for tourists and visitors who wish to go solo for their stays in Asia, many resorts offer convenience, scenic beauty, friendly staff and options for recreation and entertainment. Depending on your travel and leisure interests, these resorts allow you to work on your tan on a beautiful, secluded coast, or peruse the posh shops and nightlife of the city.
Pan Pacific Nirwana Bali Resort
Famous for its globally recognized golf course and striking geography as a seaside location, this resort has much to offer the single traveler. With a variety of hotel-style rooms, as well as one- and two-bedroom private villas, the Pan Pacific Nirwana Bali provides a wide selection of rooming options for guests visiting by themselves. In addition to its acclaimed golf course, the resort boasts athletic and spa facilities whose recreational options do not require participants to be in couples or groups Activities range from swimming in the pool to learning Balinese dances. There are five restaurants in the resort itself, allowing singles to relax on-site rather than having to venture out into the surrounding areas without the help of a traveling companion. There are also interest- and duration-tailored packages that allow solo guests to enhance their visit or save money.

Bon Ton Resort
This resort is situated on a beautiful site -- a century-old coconut plantation -- and is the perfect place for the single traveler to unwind and enjoy Malaysia's island beauty without interruption or social distractions. Bon Ton offers unique private villa accommodations for its guests, and because breakfasts are included in your stay and are delivered to your individual refrigerator the night before, your relaxing vacation for one won't be disturbed in the mornings. Additionally, the resort has a restaurant and "Sunset Deck" bar on-site, so if you don't want to wander on your own around the island, you don't have to. To make your travel to and from Bon Ton simple and convenient, the Langkawi airport is only 10 minutes away and is accessible by ferry from other nearby islands in the archipelago. The resort's website also includes a helpful guide of dining and tourist attractions on this part of the island, as well as a list of "Must-do's" so that you can direct your own activities for your single holiday without feeling dependent on others or limited to the resort grounds.

Pan Pacific Singapore
For visitors who prefer the company of a bustling city to that of a travel companion, this popular Singapore resort provides many amenities and conveniences that can make vacation as a single both effortless and enjoyable. The resort is located on the Marina Bay and has 778 rooms for you to choose from. In addition to its numerous and global dining options, the Pan Pacific Singapore offers dining and spa-focused packages such as "Ladies' Night," "Light Bites at Brunch" and "Day Spa Retreat" to make your solo stay full of activity, relaxation and comfort. If you wish to venture out of the resort, the Pan Pacific Singapore is connected by a "covered skybridge" to nearby shopping and public centers, so that you needn't waste vacation time trying to find transportation or things to do on your own.