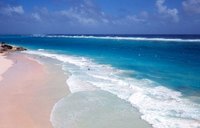 Beaches with pink sand are found only in a handful of locations. Several Caribbean beaches boast sand that ranges from a soft pink to a richer salmon color. This rare color of sand is the result of foraminifera -- tiny sea creatures with red shells. Their colorful shells are broken down into fine granule-size pieces, mixing in with the native sands and creating the pinkish-hue that is seen today.
Antigua and Barbuda
Several beaches around the islands of Antigua and Barbuda have a salmon-pink color. As the sun sets, the sands have almost a coral-colored hue to them. Antigua and Barbuda beaches are also known for superb snorkeling spots.
The island of Antigua has approximately 365 beaches, one for each day of the year. Beaches on Barbuda are virtually deserted, as much of this island is undeveloped. Diving off the coast of Barbuda is exciting, for there are a number of sunken ships to explore.
Bonaire
Bonaire is another Caribbean island and is known for its pink sand beaches more than anything else. There is one beach on the island simply called Pink Beach, as it's known for its more vibrant pink sands. This beach is also popular for its snorkeling, scuba diving and picnic areas.
The Bahamas
The Bahamas Islands have several stretches of pink beach. On Cat Island, one of the Bahamas' outlying islands, there are two primary spots of pink, sandy beach. North Shore features approximately five miles of quiet, pink sandy beach area, while Fine Beach is another secluded beachfront area, with 12 miles of lovely pink sands.
Harbour Island is part of the Bahamas and features a popular coastal area called Pink Sands Beach. In addition to finding pink sands here, you'll also see a luxury resort equipped with oceanfront cottages.
The nearby island of Eleuthera is also one of the Bahamas' outlying islands. It's approximately three miles wide and 100 miles long, showcasing pink sands all around the island's outer edge. The Atlantic Ocean is on one side of this island, while the Caribbean Sea lies on the other.
Bermuda
The islands of Bermuda offer the largest number of pink sand beach locations. The curved sandy beachfront against the Caribbean Sea's turquoise waters makes the pink-colored sands stand out.
Horseshoe Bay Beach is one of the most popular beaches in Bermuda. It's shaped like a horseshoe, stretching out for a total of four miles. The sand here is a paler pink but still noticeable against the clear blue water. You'll find public restrooms, showers and a beachfront cafe. Snorkeling off the coast is challenging because of the strong swells. Swimming in the shallower waters would be a much better activity for both adults and children.
Jobson's Cove is a tiny secluded beach area, located in Warwick Parish. It's surrounded by steep limestone and lava rocks that block the winds. With its calmer waters for swimming, Jobson's Cove is a great hideaway location for a romantic picnic along its shores of pink sand.
Tobacco Bay Beach features water sports equipment rentals and a snack bar. Located in St. George's Parish, this pink sand beach showcases a variety of limestone rock formations just off the shoreline. The waters here are also home to species of parrot fish.