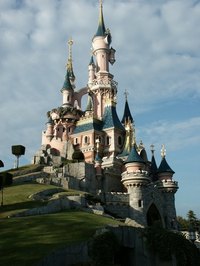 Packing properly can make a difference in your Disneyland vacation in Anaheim, California. You want to be prepared for the unexpected so there is no damper on your fun. Pack seasonal clothing, items that are needed to provide comfort while enjoying Disneyland, and optional items that you might find helpful in some situations.
Clothing
No matter what time of year you are visiting Disneyland, bring clothing for both warm and cool weather. Anaheim can be hot during the day in the winter and cold at night in the summer. If you are going in summer, pack mostly shorts and short-sleeved shirts, but also bring two pairs of slacks. If you are visiting in the winter, bring mostly slacks and long sleeves, and two pairs of shorts and short-sleeved shirts. If you are vacationing in the spring and fall, pack an equal number of long and short sleeves and slacks. Most hotels in that area have pools, so bring a bathing suit no matter what the season. Bring a jacket for cool nights and a lightweight jacket or poncho for rain. Take one good outfit in case you go to a dressier dinner. Wear the most comfortable shoes possible, because you will be walking all day in the park. Break in new shoes before you go, so they are comfortable.
Helpful Items
Wear a backpack or fanny pack in the parks so you can carry a few bandages, sunscreen, bug spray, tissues, wet wipes and lip balm with sunscreen. Over-the-counter pain relievers will be helpful for headaches and aching feet. Consider taking a couple of water bottles and snacks into Disneyland. You will probably be in the sun all day, so wear good sunglasses and a hat or visor. A bandanna will keep sun off your neck, and if it's wet it will help to keep you cool in the heat. Carry a rolled-up plastic bag in your backpack to sit on when viewing the parade or fireworks. Don't forget your camera. Pack a basic first aid kit with something to treat sunburn.
Optional Items
You will probably tip the bellman at the hotel, leave single dollars for the hotel housekeepers and tip any cab drivers and porters at airports, so bring some cash in small bills. You will also need singles and pennies to make inexpensive souvenirs in the machines Disneyland has. A misting fan will keep you cool. Wear a clip that keeps your sunglasses in your pocket so you won't lose them on the rides. If you or your children plan to seek autographs from the Disney characters, bring an autograph book and a fat pen, which is easier for them to hold with their extra-large fingers.