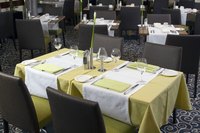 Portland, Oregon's international airport (PDX) is located close to local food and shopping. Visitors, residents and passers-through can drive or take advantage of the city's inexpensive and user-friendly public transportation system to access a variety of restaurants within a few miles of the airport. NE Alberta Street is less than 5 miles from the airport, and is home to so many restaurants and shops that nearly any traveler will find something to like.
Ciao Vito
Just 15 minutes and 3 miles from the airport, Ciao Vito is known for it's eclectic Italian menu and popular happy hour. The menu includes Italian restaurant classics like fried calamari and gnocchi, as well as seasonal items and rotating specials. The happy hour is extended, with drink specials going until 8 p.m. on weeknights. Ciao Vito is open daily with happy hour beginning at 5 p.m. If you're hoping to grab a bite and a drink before jumping on an evening flight, Ciao Vito is a convenient and classy option. For dinner, advance reservations are recommended.
Roots Restaurant and Bar
Just across the river from the airport on the Washington side of the border, Roots Restaurant and Bar is an upscale, locally-owned restaurant, perfect for a nice lunch or dinner on your way in or out of town. Roots offers lunch and dinner on weekdays, and a weekend brunch menu. All meals include small and large plates of seasonal, local food, showcasing the cuisine of the Pacific Northwest. You can be to the airport in less than 20 minutes from here.
Podnah's Pit Barbecue
Just 10 minutes from Portland's airport, Podnah's Pit Barbecue is a relaxed, Texas-style barbecue joint. Open every day except Mondays, Podnah's is a convenient, fun spot to stop for lunch or dinner on your way to or from the airport. The menu includes classic Texas barbecue fare, with higher end options like lamb spareribs. Tuesdays have an all-day beer and rib happy hour. For a beer or a meal of any size, Podnah's is a smart option for travelers who want to explore the city but stay close to the airport.