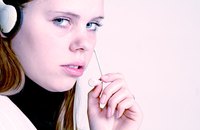 To efficiently serve as many customers as possible, many large organizations establish call centers that customers can contact by telephone or online chat. Inbound call centers serve a number of purposes and hold numerous responsibilities. They range from providing product and service information to generating sales leads and tracking metrics on customer feedback.
Customer Service
Call centers provide a universal access point for customers to contact a company by telephone. Customers call into call centers for everything from billing questions to lost credit cards, and service agents often provide a listening ear for irate and befuddled customers. In a customer service role, inbound call centers must present a positive and professional company image to customers who range from elated to hostile. In addition, call center agents must be familiar with the company's products and services to answer customer inquiries, and many call centers explain billing processes to customers. Call centers are also often responsible for retaining customers who might otherwise leave for a competitor's products or services.
Technical Support
Some inbound call centers provide technical support when customers have difficulty using the company's products or services. Call centers train their agents on the company's products, and agents use this training to troubleshoot customer problems. In a technical support capacity, call centers resolve customer issues, prevent customers from returning products and retain customers who might otherwise adopt a competitor's products or services.
Order Processing
Many inbound call centers accept customer orders. In inbound sales call centers, agents accept calls from customers who have seen a product advertised or received a catalog, then process the customer's payment and enter the order into a database for fulfillment. Many inbound sales call centers also suggest alternative or complementary products as a way of increasing sales and revenue. In some cases, customer service and support call centers double as sales centers, suggesting product upgrades or replacements to each customer contact.
Metric Generation
Inbound call centers often serve as a company's most direct interface with its customer base. As such, they are uniquely positioned to generate information and gather feedback about the company's products and services. As call center agents receive input from customers, they typically capture the comments in a trouble ticket or account log. Administrators can query this information to find and analyze trends in customer requests, demand, problems and other issues.