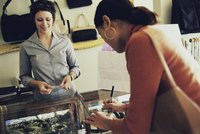 Human resources play a major role in the highly competitive and fluid retail sector. To both meet department goals and align with the business's customer service objectives and long-term vision, HR must overcome a variety of challenges. Among the most common -- and the most challenging -- are dealing with traditionally high employee turnover rates, constant recruitment, training and workforce management issues.
Turnover and Retention
Inherently high employee turnover rates in the retail sector create holes that HR must work hard to overcome. According to a 2012 Hay Group report, most employee attrition is with part-time employees. This not only leads to a continuous cycle of recruiting, hiring and training, but a constant influx of new employees often creates customer service issues. Additional challenges lie in engaging and retaining high performers and helping employees understand their critical role in meeting customer service objectives.
Recruiting Challenges
Because most retail employees interact directly with customers, poor hiring choices can have a direct and lasting effect on a retail business's reputation Because of this, attracting candidates who are passionate about retail and customer service are among the main recruiting challenges HR staff members face. An irregular work schedule, holiday assignments and relatively low wages increase these challenges. Some HR departments also face demographic challenges in creating a workforce with whom customers can identify.
Training Issues
In many retail businesses, new hire training takes place mainly on the sales floor. This can create several challenges, such as making sure a new employee receives both soft skills and product knowledge training, while at the same time working to strengthen the employee-customer relationship. A good relationship between HR and department supervisors and managers is vital to optimizing both the training program and the environment. For example, although HR may determine the topics, floor managers must ensure the employee receives all required training and isn't simply thrown onto the sales floor during busy times.
Workforce Management
Workforce management is a common and most often ongoing challenge for retail HR departments. According to Kronos, a workforce management company, an ideal environment is one in which HR has a variety of forecasting and analytical tools that help balance employee scheduling needs against the business's payroll budget. However, not all businesses have or can afford to invest in these tools. Instead, HR departments must create their own forecasts and work with managers to align requirements and budget considerations manually.