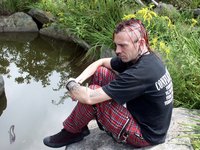 Wrinkle-free pants are an alternative for those who do not have the time to continually iron or steam pants. Some types of cloth fabric are naturally wrinkle deterrents, while other pants are made to be wrinkle-free. When you are traveling, busy working or just want to appear fresh, crisp and wrinkle-free, the best wrinkle-free pants are easy to find when you know what type of material and brand you are after.
Cloth Materials
The cloth material is an important factor to consider when choosing wrinkle-free pants. The best fabrics to choose when selecting wrinkle-free pants are heavy or unbending fabrics like wool and denim or soft, non-creasing fabrics like flannel. Wool is made from a stiff protein fiber that does not bend easily. Flannel is a lighter, soft, loosely woven woolen fabric typically used for pajama or lounge pants. It does not hold wrinkles. Jeans, made from denim, are a lighter alternative to heavier wool fabrics. The sturdy, stiff fall of the pants discourages wrinkles from forming or staying.
Synthetic Materials
Synthetic materials such as acrylic, nylon and polyester or blends make the best wrinkle-free synthetic pants. Acrylic is made from natural gas and petroleum and is a tough non-stretching and non-wrinkling material perfect for no-fuss pants. Nylon pants, made from a polyamide made from petroleum, are superior in the wrinkle-free category because of stretch and elasticity characteristics. Nylon is also very durable, resistant to tears, heat, water, mold and chemical damage. Polyester pants provide strength and resistance to both wrinkles and weather elements. Polyester is relatively inexpensive as well. Pants made from blends of these synthetic fibers also make exemplary wrinkle-free pants.
Store Bought Brands
A few brands have made specifically wrinkle-free pants geared towards those in favor of less ironing. Dockers brand has a line called Slates that makes wool blend dress pants. These pants are machine washable and have a stain defense finish. Slates come in a variety of colors including brown, wheat, olive, charcoal and black. Brooks Brothers brand has a line of pants called Advantage Chinos that feature non-wrinkling chinos in a range of colors including black, khaki, stone and navy.