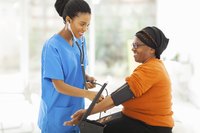 Businesses don't have to provide health insurance to employees, but some have to pay penalties for this refusal. The federal government currently requires businesses with 50 or more full-time equivalent employees to offer affordable health-care coverage. Businesses that fail to offer coverage, or those that offer insufficient coverage, must pay an annual tax penalty.
Affordable Plans
Not all health-care coverage is considered affordable in the eyes of the federal government. To avoid penalties, the health-care plan must cover at least 60 percent of expected health-care costs. The employee's share of the premium contribution cannot exceed 9.5 percent of the employee's income. And the business must offer coverage to at least 95 percent of full-time employees and their dependents. Businesses with more than 50 -- but fewer than 100 --employees must offer coverage to 95 percent -- or all but five employees, whichever is less.
Penalties for Not Offering Coverage
Exact health insurance penalties differ depending on whether or not the business offers any coverage. Businesses with more than 50 full-time equivalent employees that don't offer any coverage will be charged penalties with their annual tax returns. The annual penalty for failing to offer eligible coverage is $2,000 multiplied by the number of full-time employees minus 30. For example, a business with 70 full-time employees will pay $2,000 multiplied by 40, or $80,000, in annual penalties.
Penalties for Not Offering Affordable Coverage
If a business with more than 50 full-time employees offers coverage but the coverage doesn't meet current standards, penalties are somewhat reduced. The employer will be charged $3,000 for each employee who purchases coverage on the market and receives a tax credit for it. For example, the employer wouldn't be charged a fee for individuals who receive coverage through spouses and other family members. The tax penalty is capped at $2,000 multiplied by the total number of full-time employees less 30. In other words, the penalty won't exceed the penalty for businesses that offer no health-care coverage.
Reporting Requirements
In addition to offering eligible coverage, businesses must report the cost of employer-sponsored health-care plans. The business must calculate the health-care expense it incurred for each employee and report the figure in Box 12 of each W-2 form. The Internal Revenue Service is currently offering "transition relief" for businesses with fewer than 250 employees. These smaller businesses don't have to report the cost of coverage at the time of publication but will most likely need to do so once the IRS offers further guidance on the topic.