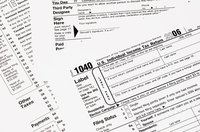 Most business structures incur the same types of taxes, which are broken into three main categories: Income taxes, Self-Employment taxes, and Employer taxes. Small businesses, generally set up as proprietorships, partnerships, and limited liability companies, are responsible for all three types. A small business owner is responsible for making timely tax payments and for collecting and paying employee taxes.
Income Taxes
Income taxes are the taxes paid to the federal government based on income and credits. Income from small businesses is reported on a Schedule C Profit and Loss from Business Form. All business structures, except corporations, allow owners to pay their own income taxes. In other words, the business itself does not pay income tax. Income taxes are generally paid in installments. If a small business owner expects to owe $1000.00 or more in federal taxes at the end of the year, the owner pays quarterly installments called estimated payments. This reduces the person's tax liability at the end of the year. Failure to make estimated payments results in paying penalties.
Self-Employment Taxes
Self-employment taxes are paid by small businesses owners. This tax is a Social Security and Medicare tax combined. When a person works for a company, the employer deducts 6.2% of their earnings for a Social Security tax and 1.45% for a Medicare tax. The person's employer than matches the contribution equally. For small businesses, since the owner is both the employee and employer, the owner pays the entire amount which is 15.3%; 12.4% for Social Security and 2.9% for Medicare.
Employer Taxes
Employers of small businesses have several tax liabilities they are responsible for paying. Federal Unemployment tax (FUTA) is one of them. FUTA tax is an employer paid tax only. The rate for FUTA is 6.2% and is paid only on an employee's first $7000.00 of wages. This tax is paid to cover unemployment payments made to employees entitled to that benefit. Small businesses also pay a State Unemployment tax (SUTA). Any payments made to SUTA reduce the amount the employer pays for FUTA. Employers, of small businesses, also are responsible for matching employees Social Security and Medicare taxes. In addition to that employers are responsible for deducting all taxes out of their employee's paychecks and mailing them in.