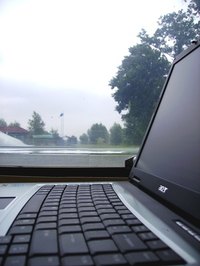 Corporate communication takes place in various forms throughout an organization. From sharing knowledge on website blogs to sending weekly newsletters to clients, corporate communication tools are an important way for businesses to talk to each other and employees, as well as educate and build strong relationships with partners and customers.
Electronic Newsletters
Electronic newsletters are an easy way for firms to update their employees and customers about product releases, as well as store and online promotions, organizational changes, corporate events, news and industry trends. Newsletters vary from simple text formats to elaborate HTML templates and can include images, banners and Flash animation. Electronic newsletters are also used frequently because they are relatively inexpensive to put together, can be assembled within a short amount of time and can be sent out simultaneously to small or massive mailing lists. They also offer companies the opportunity to promote additional products and services by including links to websites and web forms.
Blogs
Weblogs, more commonly known as blogs, are journals that are read and maintained on the Internet. Although blogs are often used for entertainment purposes, corporations use blogs to facilitate dialogue and elicit commentary from their customer base and potential targets. It is also a form of marketing strategy for companies striving to position themselves as thought leaders in their sector. Topics vary and may be based on the latest market trends affecting a particular industry or best practices for users of a particular product. Senior executives also update their employees using blogs by sharing information that is relevant to various regions and departments, or by providing insight on recent developments that impact their business.
Webcasts/Webinars
As companies search for ways to cut down on the time and cost required to plan and execute internal and external events, webcasts, also referred to as webinars, have increasingly grown in popularity. Conducted using web conferencing software, users share slides, videos or their own computer desktop to present information to audience. To listen to the audio portion of a webcast, participants either dial into the videoconference via telephone or listen through computer speakers. Webcast topics can range from product demonstrations to annual company updates for employees.
Because webcasts occur online, participants and presenters can tune in from any location so long as they have access to the Internet. Hosts and presenters also utilize features such as polling, question and answer and annotation tools to promote interactivity during the session.