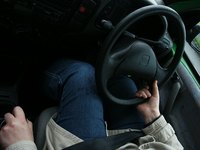 Much like the United States, most other developed countries have drunken-driving laws. Some of these countries have stricter laws than the United States. France, where the legal drinking age is 16 yet the driving age is 18, used to have some of the highest road fatalities in Europe, often connected to drunk driving, according to The Washington Post. Since lowering its legal blood-alcohol level for drivers and increasing penalties against violators, this statistic has dropped significantly.
Blood-Alcohol Level
Having alcohol in your blood has shown to affect your driving, and the higher the blood-alcohol level, the more impaired your driving may be. The legal limit in France as of December 1995 is 0.5 grams per liter. This is equivalent to a 150-pound person consuming two glasses of wine in one hour.
In France, the police are required to conduct a blood-alcohol test at the scene of almost all accidents. Both blood and breath tests are accepted.
Penalty
Violating this law carries a fine of approximately 135 euros and six points on the driver's license if she is a resident of France. If a driver is involved in an accident while driving with a blood-alcohol level over the legal limit, the fine could be raised 30,000 euros.
If the blood-alcohol level of the driver is greater than 0.8 grams per litre, the driver may face greater penalties. The French law allows a suspension of the driver's license and a sentence of between eight months and one year in jail. If a drunken driver commits vehicular manslaughter, the penalty could be a fine of 150,000 euros and up to 10 years in jail.
Positive Impact
The legal blood-alcohol level for driving in France is significantly lower than in the United States, where the average legal blood-alcohol level is 0.08, and many other European countries. The United Kingdom is one of the few countries that has stricter drunken-driving laws. Since France lowered the legal blood-alcohol level, fatal crashes have been reduced by 4 percent as of 2010.
Rehabilitation Programs
Unlike most of the United States, France does not require an individual who has been arrested for drunken driving to complete a rehabilitation program. Instead, the French government often requires the individual to undergo a medical examination before re-granting his license. If the medical examination deems that the individual is not fit to drive, the driver is placed on probation for one year.
Enforcement
Much like the United States, France uses random checkpoints to conduct sobriety checks. France utilizes random breath testing extensively across its roads. According to statistics provided by the National Highway Traffic Safety Administration, 13 percent of all individuals passing through French random checkpoints tested positive for having an illegal blood-alcohol level. At traffic violations, 6 percent of all violators had illegally high blood-alcohol levels, and at accidents 1 percent of all drivers were driving with an illegal blood-alcohol level.