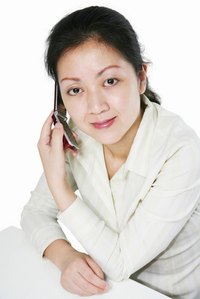 ICT stands for information communications technology, and although it lacks universally accepted definition, the term refers to any product that allows the transfer or manipulation of digital information. According to John Varley, CEO of England-based Barclays Bank, investing in such technology "opens up new markets, increases productivity and liberates talent."
Smart Phones
A smart phone -- often seen as more of a portable computer with a cell phone than a phone with computer-like functionality -- offers features such as email, video conferencing, text messaging, e-book reading and GPS. Easy access to the Internet, coupled with the ability to send, receive and read documents, make this a valuable tool for communication with employees in the field. In fact, in an April 2010 RingCentral Connect survey, as many small- to medium-sized business owners said they couldn't live without a smart phone as said they couldn't live without intimate relations (40 percent). Furthermore, 77 percent said their smart phone was the phone they most used to conduct business.
Personal Computers
Internally, personal computers allow businesses to keep permanent records of communication, encrypt messages and transmit media of all types. PCs also increasingly play a significant part of external business communications, with eTForecasts predicting that worldwide PC sales will increase from 301 million units in 2010 to 400 million units in 2015.
Laptops
Because laptop computers provide the same features as their desktop counterparts, but with added portability, they have markedly boosted the mobility of business practices. However, this portability brings with it an increased security risk. An April 2009 report by Intel suggests that a lost or stolen laptop costs businesses an average of $49,246, once factors such as lost productivity, lost intellectual property and legal expenses had been taken into account.