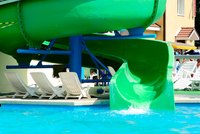 With temperatures routinely soaring beyond 100 degrees, south Texas residents and visitors have a number of different opportunities to splash the heat away. Though no water parks exist within the city of Austin, many are within an hour of the city. With parks ranging from lazy river tubing to full-fledged parks complete with water slides, Austin can be a very cool place.
Barton Springs Pool
Barton Springs Pool is a simple water park. In fact, Barton Springs Pool is basically a large pond. At three acres in size, the pool is large enough for many bathers and being spring-fed, it maintains an approximate 68-degree temperature year round. Barton Springs Pool is managed by the City of Austin Department of Parks and Recreation and is the only water-type park within the city and costs less than $5 per person per day.
Barton Springs Pool 2101 Barton Springs Road Austin, TX 78704 512-867-3080 ci.austin.tx.us/parks
Volente Beach
Volente Beach, located in Leander, Texas, is approximately 20 miles west of Austin. The park has a number of true water rides such as a pirate ship-themed water slide and a lazy lagoon. As of October, 2010, the park is open from April to September though prices vary depending on the season.
Volente Beach 16107 FM 2769 Leander, TX 512-258-5109 volentebeach.com
Schlitterbahn Water Resort
Though it is located less than 45 miles from Austin, Schlitterbahn Water Resort is the only park near Austin able to claim the title of a full water resort. The park has many different features and attractions such as a wave pool, Congo River attraction and lazy lagoon. As of October, 2010, the resort is open from from late spring to early fall with season passes costing approximately $110 per person. Day passes are available though prices are announced just prior to the season opening.
Schlitterbahn Water Resort 305 West Austin New Braunfels, TX 78130 830-625-2351 schlitterbahn.com