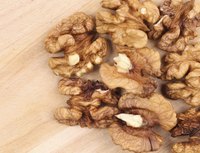 Tree nut allergies are among the most common food allergies; they occur when the body reacts to the proteins in the nuts it views as harmful. Walnuts, almonds, hazelnuts, cashews, Brazil nuts and pistachios are among the most common examples of tree nuts. Many people who are allergic to one tree nut are usually allergic to other tree nuts, so it's wise to understand what foods contain the nuts so you can avoid them. If you experience allergy symptoms, such as difficulty breathing or skin rash, seek medical attention immediately.
Grain-Based Foods
Grains, whole grains in particular, are a healthy part of a well-balanced diet because they supply fiber, iron and B vitamins, but many products also contain tree nuts or traces of tree nuts. For example, some breakfast cereals can contain tree nuts, which must be listed in the ingredient list per the guidelines outlined in the federal Food Allergen Labeling and Consumer Protection Act. Baking mixes might also contain tree nuts, so it's essential to read food labels on these items. Breading mixes, commercially prepared baked goods, granola bars and biscuits are potential grain sources of tree nuts, as well.
Certain Main Courses
Tree nuts are good sources of fiber, protein and vitamin E, and they're present in a variety of main courses. If you have a tree nut allergy, however, you'll need to get these nutrients elsewhere, as well as avoid the most common culprits. For example, certain Asian dishes can contain tree nuts. Peruse salad bars, as well, because many contain nuts as salad toppers, but the nuts can also get mixed up with other ingredients that are usually tree-nut-free. Ask about foods prepared with oils to be sure they're cooked without tree nut oils such as walnut oil. Certain sauces that contains pine nuts, such as pesto, are an additional source of allergens.
A Selection of Desserts
While nut-topped cakes and chocolate-covered nuts are an obvious source of tree nuts, they can be lurking in a variety of other sweet treats, too. For example, some chocolates might contain traces of nuts or nut flavorings, such as almond extract, that make them off-limits. In fact, any dessert that contains pure nut extract, such as almond, should be avoided. Marzipan, some icings and frostings, nougat, fudge, puddings, flourless cakes and some ice creams are potential sources of tree nuts as well, so it's essential to read ingredient labels on these items.
Unexpected Sources of Tree Nuts
Some foods can be contaminated with tree nut residue even if they don't contain actual tree nuts. This is called cross-contamination, and manufacturers aren't required by law to state on a food package whether the food might have come into contact with tree nuts, though some food manufacturers do voluntarily provide this information. Fruit crumble mixes, packaged granola, energy mixes, flavored cheeses, Worcestershire sauce, Thai and Indian food, salad dressings and foods with textured or hydrolyzed vegetable protein are a few unexpected sources of tree nuts or tree nut residue.