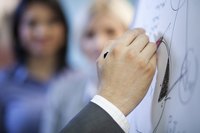 With constant changes in the way consumers communicate personally and professionally, marketing is a moving target that requires an extensive skill set. Marketing now happens online, offline and everywhere in-between. With the prevalence of social media, mobile internet connections and on-demand information, the 21st century presents a new slew of challenges for marketers.
Creating Regular, Relevant Content
According to the Altimeter Group, a provider of research and advisory services for businesses, content marketing was reported as the No. 1 priority of business-to-business and business-to-consumer marketing groups in 2013. The concept of content marketing is to reach customers and potential customers through timely, relevant and helpful content that focuses on the customer rather than the business or product being sold. That said, content marketing requires the time and the budget to create meaningful content on a frequent basis. This will be a challenge to many businesses that may lack the budget for writers, videographers or graphic designers, and the time and research it takes to identify the topics and trends that matter to customers.
Finding ROI in Social Media
Social media marketing has become standard. As more consumers adopt and regularly use popular platforms like Facebook, Instagram, Twitter and Google+, businesses have taken their marketing efforts into the social space. However, most marketers are also charged with analyzing and tracking the return on investment of their efforts. This can be a challenge when it comes to social media, where brand recognition or product exposure may be difficult to measure or track. Analytics that track your business's social and digital presence may be helpful, but it can be difficult to find a program that does this effectively for your business. Since social media is always changing, you'll need to make sure your strategies and analytics programs are continually evolving along with it.
Finding Marketing's Place in the Sales Cycle
Many businesses have separate and distinct marketing, sales and product development departments. While each of these disciplines has unique responsibilities, operating them in silos can be counterproductive to good marketing. As digital, social and content marketing bring businesses closer to their customers and help them to develop more meaningful relationships, marketing no longer can be disconnected from any part of the sales cycle. This means collaborating marketing efforts with product development efforts and sales strategies. For example, marketing may take a larger role in focus groups held for product development purposes. This way, marketers will have firsthand knowledge of customers' wants, needs and motivations.
Unifying Marketing Messages Across Channels
Businesses now have more opportunities to connect with their customers than ever before, from print advertising to TV ads to direct mailers to social campaigns to on-site display advertising. However, this also presents a challenge, because unifying that message across multiple channels can be difficult. For instance, a TV ad may not translate onto a mobile device, while a social campaign may not make sense as a billboard. The challenge is to find a message that unifies the brand and then communicate that message regardless of the medium used.