Being in shape and adapting a healthy lifestyle became fashionable in the 1980s, and workout fashion merged bold statements and practicality. Workout clothes and accessories became acceptable fashion outside the gym for men and women. Bright colors, geometric prints and skintight attire mainstreamed into street fashion by those wanting to show off fitness commitment. The synthetic materials used in workout wear allowed for easy dying, which helped during the color and print frenzy of the 1980s, according to Motley Health.
Terrycloth Sweatbands
In the 1980s towel-covered elastic accessories -- also known as terrycloth sweatbands -- were part of the workout clothing motif for men and women. Worn around the head and wrists, sweatbands were seen in the gym and on the streets.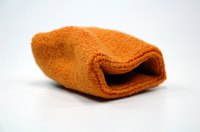 Tracksuits
Men sported zip-up jackets -- with or without hoods -- and matching jogging-style pants of various textures during the 1980s. Tracksuits stayed popular in mainstream fashion well after the end of the 1980s, according to Made Manual, and became a staple for both men and women.
Spandex for All
Having a fit body increased in popularity during the 1980s -- and spandex provided a fashionable outlet for both sexes to show off their hard work. Usually men displayed a fondness for the material by wearing various styles of fitted spandex shorts resembling a colorful second-skin.
Biker Shorts
Introduced by cyclists as a skin protectant and wind-deterrent, biker shorts -- made from spandex -- emerged as a fashion trend favored by athletic men in the 1980s, according to Motley Health.
Short Running Shorts
Men's running shorts during the 1980s were extremely short and usually made of synthetic materials that made a "zitzit" sound upon any movement -- the shorts didn't leave much to the imagination, says Motley Health.
Muscle Shirts
Ripped, tight shirts, often without sleeves, became popular as workout fashion for men in the 1980s. Made Manual says these shirts also became part of mainstream fashion during a pop culture boom.
High-Top Sneakers
Until the popularization of cross-trainers, workout footwear fashion consisted of high-top sneakers -- and men were often categorized outside the gym based on whether their choice was leather or canvas.
The Introduction of Cross-Trainers
Cross-trainers became a popular shoe for men in the 1980s because of the shoe's concept – more time is spent training for a sport than participating in it, according to "Time Magazine."