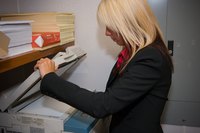 Copy machines have become a necessity for any business. There is always paperwork to copy for filing, reference and archiving. Since its inception, copier technology has vastly improved, allowing machines to become more compact, faster and more accessible. Newer copiers are now multifunctional, allowing copying, printing, scanning and faxing in just one device. Some models even allow users to wirelessly connect to the device.
HP Color LaserJet 2840
The HP Color LaserJet 2840 copier has the capability to print, fax, scan and copy a variety of business documents. Users can perform these functions simply by sending document information to the copier through a network or memory card. Memory cards can be accessed through an integrated control panel. Page print speed is clocked at a maximum of 12 pages a minute for greyscale printing. Additionally, the copier can hold up to 375 sheets at once and has a separate compartment for paper that can fit up to 125 sheets. Double-sided/duplex printing is available. The product is rated four out of five stars by CNET.
Xerox Phaser 6128MFP/N
The Xerox Phaser 6128MFP/N is a multifunction device capable of scanning, printing, copying and faxing documents in color. The device is smaller than normal copy machines, which consumes less space around your office and is convenient. The copier measures 16.7 inches wide, 20 inches deep and 23 inches high. Copy machine users may print, copy and scan documents with a resolution of up to 600 by 600 dpi. The Xerox Phaser can print at a rate of 12 pages per minute (ppm) in color and 16 ppm in monochrome. Sheets can be any of three different types of dimensions — 8.5-by-11 inches, 8.5-by-14 inches and 3-by-5 inches — and can be stored up to 251 at a time. The copier has a five star rating from Amazon.com.
Brother MFC-7840W Laser Multifunction Center
The Brother MFC-7840W Laser Multifunction Center is able to handle printing, faxing, scanning and copying at small business scale. The device is compact, measuring 16.9 inches in width, 15.6 inches in depth and 12 inches in height and weighing less than 25 pounds. The Multifunction Center can be accessed using a USB, wireless and Ethernet connection, allowing your whole office to connect to the copier without the need for networking configuration. Documents are crisply printed with a 2400 by 600 dpi resolution and a speed of 23 pages a minute. The paper feeder can fit up to 250 sheets.