Resveratrol is an antioxidant best known for being found in red wine. It is believed to have many health benefits, including the possibility that it contributes to longer life and helps fight diseases such as cancer, diabetes and heart disease. The interest in resveratrol began with what is known as the French paradox, which is that despite the high rate of cigarette smoking and a diet high in saturated fat, the death rate for coronary heart disease is relatively low in France. This lead to the idea that regular consumption of red wine may have health benefits. Along with wine, resveratrol is found in grape juice, peanuts, the skin of grapes and certain berries, including blueberries, cranberries and bilberries.
Health Benefits of Resveratrol
Resveratrol may also help decrease inflammation and clogged arteries, at least in animal and test-tube studies. Human studies on the health benefits of resveratrol have been inconsistent. Results published online in "JAMA Internal Medicine" showed that humans would need to consume far more than what is available in food to reap the same benefits as lab animals. Still, according to Dr. David Sinclair, an early resveratrol researcher, this doesn't mean that resveratrol can't help to increase human life spans or protect against the development of age-related diseases. There are resveratrol supplements, but it is unknown what a safe, effective dose is or what the long-term effects for humans are. Eating fruit that has resveratrol provides not only the antioxidant, but also the many other nutrients that fruit contains.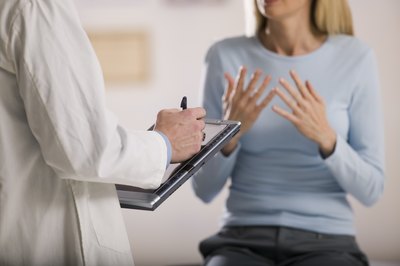 Resveratrol in Grapes
According to the Linus Pauling Institute, 1 cup of red grapes contains 0.24 to 1.25 milligrams of total resveratrol, which is comparable to the 0.30 to 1.07 milligrams in a 5-ounce glass of red wine. Grapes with the highest concentration of resveratrol include the common grape vine, found in the Mediterranean region; fox grape, the source of concord grapes found in the eastern United States; and muscadine grapes, found in the southeastern United States and used in the production of wine, juice and jelly. However, with grapes, the resveratrol is found in grape juice and the skin, not in the flesh of the fruit.
Resveratrol in Berries
Resveratrol is also found in such berries as blueberries, bilberries and cranberries. A study published in the "Journal of Agricultural and Food Chemistry" in 2003 found that highbush blueberries from Michigan and bilberries from Poland contain the highest levels of resveratrol. The study also found that blueberries and bilberries that have been baked or heat-processed have a lower resveratrol content than raw blueberries and bilberries.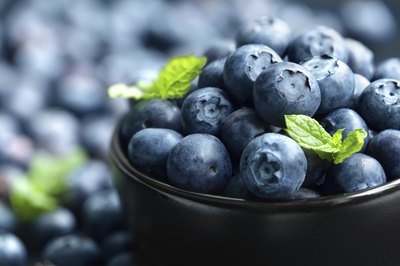 Resveratrol in Peanuts
Although not a fruit, peanuts also contain resveratrol, as does peanut butter. One cup of boiled peanuts contains 0.32 to 1.28 milligrams of resveratrol, roughly the same amount found in 5 ounces of global red wine, which contains 0.30 to 1.07 milligrams of resveratrol. One cup of raw peanuts contains an amount of resveratrol similar to that found in Spanish white wine: 0.01 to 0.26 milligrams compared to 0.01 to 0.27 milligrams.