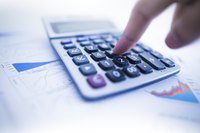 Staying in good financial condition is almost as important as maintaining good physical health. After setting a budget, it's important to remember the parameters are not static. Monitoring spending closing and ensuring everyone is committed to meeting financial goals can go a long way toward success.
Accurately Predicting Monthly Income and Expenditures
Knowing exactly how much money is coming in and out of the bank account each month is essential. This is the baseline for determining how much money can be allotted to different categories in the budget. If income or the amount of expenses is underestimated, the money will run out early. Expenditures should be monitored in a check ledger or using an online budgeting work sheet. This makes it easy to know exactly how much money is in the account at all times, so spending can be curbed if needed to stay within the budget.
Adjusting the Budget as Needed
Budgets must be adjusted according to changing life needs. Major life events like moving to a new home, having a baby, changes in income and adopting a pet impact the bottom line, would need an updated budget. Spending habits also need to be changed accordingly to ensure more money isn't coming out than coming in each month.
Cutting Unnecessary Expenses
Evaluating a budget to find unnecessary expenses frees up cash. For example, taking public transportation or biking to work can be more cost effective than driving to work. Turning off the air conditioner, packing lunch instead of eating out, downgrading to basic cable and making coffee at home instead of going to the local coffee shop are simple changes that can really add up.
Preparing for the Unexpected
Unexpected expenses, such as car repairs and medical bills, can wreak havoc on a budget without a lot of flexibility. Create room for unplanned costs so they don't lead to a financial disaster. For example, setting aside extra money each month to use as an emergency fund is a smart way to prepare for unseen costs, rather than allowing them to destroy your budget.