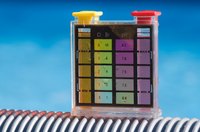 Alkali is a substance that removes hydrogen from a solution, whereas acid is a substance that releases hydrogen into a solution. The amount of free hydrogen is called pH, which indicates the precise level of alkalinity or acidity. A value of above seven is considered alkaline and a value below seven is considered acid. The balance between alkaline and acid in the body is crucial because certain functions of the body only occur when the acid and alkaline are at particular levels.
Balance is Crucial
When the body becomes too acidic, the ability of the muscles to contract declines. Too much acid results in the kidneys releasing extra hydrogen into the urine and retaining extra sodium. When a body is too alkaline, hydrogen is retained in the kidneys. According to Merck.com, alkalosis is the result of excessive blood alkalinity, which is caused by excessive amounts of bicarbonate in the blood, by the loss of acid from the blood or because of low levels of carbon dioxide in the blood that can occur because of deep or rapid breathing. Acid can also be lost due to sickness or vomiting. Other causes of alkalosis are eating too much baking soda, potassium loss due to an overly active adrenal gland and using diuretics (water pills).
Hypo Alkalinity
If the alkalinity of the blood is lessened, the blood's ability to move carbon dioxide is reduced, according to Thisismyindia.com. Acids then collect in the body tissues. When this occurs, it is called hypo-alkalinity of the blood or acidosis.
Alkaline Foods
Eating a lot of alkaline foods, such as vegetables, roots, tubers, nuts and fruits, increases the pH of the blood as well as increases the secretion of alkali. When there is too much alkaline, this reduces the availability of carbon dioxide, which results in respiratory alkalosis.
Symptoms
Symptoms of too much alkalinity include hyper excitability, muscle spasms, cramps and irritability, If the alkalosis is acute, it may be the outcome of gastric drainage, impaired kidney function, use of steroids or diuretics or hyperventilation. To treat acute alkalosis, doctors sometimes use an acidic solution such as ammonium chloride.
Extreme cases of alkalosis may result in seizures or shock. In addition, muscle twitching, tremors and a sensation of tingling or numbness in the legs, arms and face can occur, which can lead to prolonged muscles spasm, including in the larynx. Alkalosis can also cause nausea and vomiting.