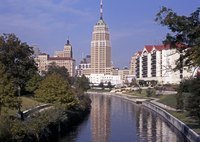 The city of San Antonio issues business permits instead of business licenses. It offers two basic types of business permits. The city requires a peddlers' permit for all street vendors available from the revenue division of the city of San Antonio. For anyone operating a business in their home or any other location, they must obtain a business permit from the San Antonio Development Services Department.
Business Location
A peddlers' permit and a business permit both require a static location. While a peddlers' permit may be granted to vendors who are operating businesses such as moveable food carts, any business of this type must rent or own a physical address to receive the permit. Any move of the business may require a new peddlers' permit. A business permit will only be granted to applicants who have secured a business location, whether it is owned or rented.
Site Inspection
The business space must undergo an inspection before the city issues a permit and a certificate of occupancy. San Antonio requires businesses to have a certificate of occupancy before they conduct business within the city limits. The city sends inspectors to the business location to ensure it complies with local codes. Once the location passes inspection, a certificate of occupancy will be issued. The city charges a separate fee for the certificate of occupancy.
Tax Identification Number
All businesses in San Antonio must apply for and be granted a tax identification number from the San Antonio Department of Revenue. Tax ID numbers can be applied for on the Internet or in person at the San Antonio Department of Revenue.
State Licenses
The City of San Antonio also requires state-licensed business such as contractors to register their license with the city. The registration lasts one year. The city maintains a website that allows consumers to hunt for licensed contractors registered with the City, which is an added benefit of registering your state license with the city.