For most of the United States, January and February are the coldest months of the year. Americans who want to take a February vacation away from the cold tend to go to the nearby warmer states of Florida, California or Arizona. But for those who can afford to go further away and stay for longer vacations, many other nice, warm options are available.
Sydney in Australia
February is summer in Australia with temperatures in Sydney averaging about 23 degrees Celsius (73 degrees Fahrenheit). Sydney, capital of New South Wales, is on its eastern coast and is Australia's most populous city with over four million inhabitants. As a modern cosmopolitan city, parks, beaches and a beautiful harbor can be found in Sydney. It has a wide choice of hotels and other types of accommodation. Before exploring the city, a harbor cruise or a visit to the Sydney Tower allows a visitor to get a bird's eye view of what's in store. Having gone more than halfway around the world to get to Sydney, vacationers might also opt to visit nearby places such as the Hunter Valley, the Southern Highlands, or the Blue Mountains.
Boracay in the Philippines
Boracay, an island in the Philippines, has temperatures averaging 30 degrees Celsius (88 degrees Fahrenheit), with two seasons: rainy from June to October, and dry from November to May. The coolest months are December to February, with temperatures in the high 20s and becoming lower in the evenings and early mornings. Boracay is busiest in the dry months, with many visitors cavorting on the powder-white 3.5 mile beach and crystal blue waters, enjoying the winds, kite-boarding or wind-surfing. Boracy's culinary fare is as diverse as its visitors: Germans, French, Chinese, Korean, Filipino and many more. Since all commercial flights to Boracay depart from Manila, visitors often spend a night or two in this the capital city.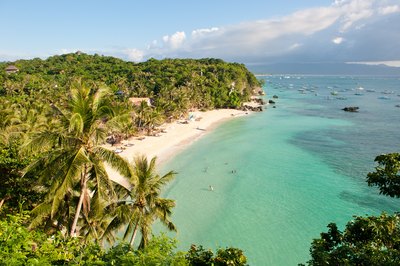 Waikiki Beach in Hawaii
Hawaii has a winter and a summer season but temperatures vary only by 5 to 7 degrees from the year-round average of 75 degrees Fahrenheit. Waikiki, on the south shore of Honolulu, is Hawaii's main resort and hotel area, and is visited by people from all over the world for its world-class resorts, shopping, dining, and entertainment. Waikiki is famous for its beaches, its calm waters perfect for swimming and surfing. Fun for the whole family is offered by attractions such as the Honolulu Zoo and the Waikiki Aquarium. Shopping and dining can be found along Kalakaua and Kuhio Avenues. Waikiki has an amazing nightlife and is near attractions like Pearl Harbor, the Nuuanu Pali Lookout, Hanauma Bay, the Ala Moana Center and Chinatown.