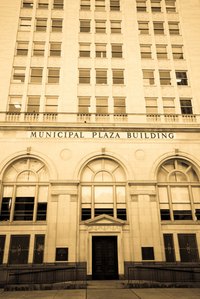 Texas is a massive place, almost 900 miles east to west and 700 miles south to north. It offers many diverse characteristics. Some of the more notable include population distribution, climate, topography and commerce. These vast differences might lead someone to conclude that east Texas and west Texas are two different worlds within the same state.
Population
Any good Texas road map shows a pronounced difference in highway networks for the eastern and western parts of the state; the eastern part has a greater number. This is because four in five Texans live along and east of a line from San Antonio to Austin to the Red River. All cities with a population of 1 million or more people in the metropolitan area are there, including Austin, Dallas, Fort Worth, San Antonio and Houston. The most populous city in western Texas is El Paso, which had about 770,000 residents in 2010.
Climate
Western Texas averages 8 to 18 inches of rain annually. Its climate is hotter and drier than eastern Texas' climate due to down-slope winds and less Gulf of Mexico inflow. Readings of above 100 F are common from June to September. The area has occasional dust storms and greater tornado frequency as well.
Meanwhile, the region from the Interstate 35 corridor eastward receives a minimum rainfall of 30 inches annually. This increases to an average of 45 inches at Houston and up to 60 inches near Beaumont. The eastern third of Texas is also crisscrossed with many large rivers and reservoirs, allowing for a dependable and abundant water source, which is not true in the western section.
Snowstorms are common over the northern half of the state during the colder winters. Dust or heavy snows are rare in the climate of eastern Texas.
Topography
The landscape of America's second largest state exhibits a huge range. Guadalupe Peak, part of the southernmost extension of the Rockies, stands at 8,749 feet in the far west. It contains the only designated wilderness area in the Texas. The elevation gradually decreases as you head east, and the rugged Big Bend Mountains are replaced by rolling plains. Elevation falls to under 1,000 feet above sea level as you enter the coastal plains at Interstate 35, thereafter rolling gently downhill to the Gulf of Mexico.
Commerce
Economically, many oil wells still produce across west Texas. Midland comes in just behind Houston for highest average Texas income thanks largely to this resource. Gypsum may be a less familiar term, but it makes up the walls in most American homes and is mined in west Texas. Twenty percent of the nation's cotton is grown around the Lubbock area, and many millions of pounds of beef are processed each year in the Amarillo and Lubbock feedlots.
In contrast, the eastern Texas economy includes shipping, timber, a smaller amount of oil, chemical industries and tourism. Houston is considered "the energy capital" because many such companies are headquartered there. Several large refineries also operate nearby, and Houston is the third busiest port in the United States.