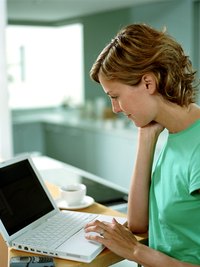 If you are not self-employed, deductible insurance premiums can only include payments you made with after-tax dollars towards health care and long-term care policies. You can't deduct premiums your employer pays on your behalf unless these premiums are included in your taxable income. Self-employed persons can deduct a wide variety of insurance premiums, including those for personal liability and umbrella insurance, that are not deductible by other individuals.
Health Care Premiums
Health-care and long-term-care premiums you pay with your own money are deductible on Schedule A of Internal Revenue Service Form 1040. If your employer provides the insurance coverage, you can only take a deduction if you shelled out taxes on the premiums, a fact that will show up on the annual W-2 Form that your employer sends you. Health care costs, including insurance premiums and Medicare Parts B and D, are deductible to the extent they exceed a threshold of 10 percent of your adjusted gross income, or a 7.5 percent threshold if you or your spouse have reached age 65.
Long Term Care Insurance Premiums
The premiums you pay for qualified long-term care insurance are deductible, subject to age-related caps. For example, in 2014, the cap was $370 for persons of age 40 or under, and rose over each additional decade to a maximum of $4,660 for folks at or above age 71. To be qualified, a long-term care policy must cover diagnosis, treatment and maintenance of chronically ill individual under a plan prescribed by a licensed health care professional.
Health Care Premiums for Self-Employed
If you are self-employed, you can subtract 100 percent of your health-care premiums and any age-capped long-term-care premiums directly from your gross income when figuring your adjusted gross income. You report the expense on the Adjusted Gross Income section of Form 1040. This rule also applies to business partners and to S corporations. Report all other deductible insurance premiums on Schedule C and include your net business income or loss on the Income section of Form 1040.
Other Deductible Premiums for Self-Employed
You can deduct the premiums on insurance related to your business or trade if you are self-employed. This includes insurance for: • Casualties and thefts • Bad business debts • Liability and umbrella coverage • Malpractice • Workers' compensation • Unemployment • Business overhead expenses should you become disabled • Vehicles used by the business • Life • Business interruption If you produce a product using insured assets such as plant, equipment and machinery, you may have to include the insurance premiums in the capital costs of the assets when your annual production costs exceed certain thresholds. You deduct capital costs in installments over the lifetime of the asset, in a process called depreciation.