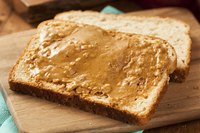 Peanut butter is a good source of protein, vitamins B-3 and E, magnesium, folate, dietary fiber and heart-healthy fats. Some manufacturers turn this wholesome nut into a highly processed disaster, however, so knowing how to choose the best peanut butter will help you stay on your path to a healthy lifestyle.
Less Is More
The healthiest peanut butter should have a simple ingredient list, consisting only of roasted peanuts and maybe a little bit of salt. A short ingredient list is generally a good indicator of a minimally processed, natural item. The Academy of Nutrition and Dietetics mentions that it is best to mix in those oils that separate out of the peanut butter rather than pour it off to ensure that you get the monounsaturated fatty acid benefits.
What to Avoid
Some manufacturers include hydrogenated oils and added sugars in their peanut butter, so be sure to scan their ingredient lists. An ingredient list with words you need a dictionary or a degree to understand should also give you a clue that the product is highly processed, likely containing unhealthy preservatives like glycerides. Steer clear of the reduced-fat peanut butters as well since the fat and calorie reduction is minimal, and manufacturers often replace it with other undesirable ingredients.