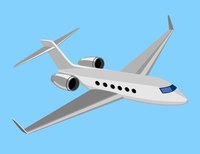 First time flyers are facing a fearfuI situation whether they admit it or not. If they give way to the anxiety about what could happen on the plane they could feel sick, weak, nervous and may have panic attacks. In the last 50 years there have been a little more than 1,000 crashes, out of something like 18 million flights each year, worldwide. The National Transportation Safety Board statistics show 4.3 fatalities per million flight hours. Passengers on airlines with top safety records have one chance in 9.4 million of being a casualty.
Education
Educate the person who is to be flying for the first time. Or, if you are the person, get educated. Flying is not that traumatic of an experience. Accidents rarely happen and many people fly safely on a daily basis. Learn what a flight entails and you will feel safer. You will board the plane, find your seat and the flight attendant will go over everything you need to know about the flight and safety.
Reassurance
Reassure the first time flyer of the fact that flying is a very safe mode of transportation. Since 9/11 the airports have upped their rules and security, quashing fears of terrorism. Airports have both metal detectors and guards, protecting people even before boarding the flight.
Guidance
Guide the first time flyer. If you are flying with a first time flyer walk him through all of the steps, from boarding the plane, to safety precautions and tricks to stay calm while on the flight. If you are the first time flyer be a veteran flyer about it. Meditate when the plane is taking off to calm your nerves and help avoid any panic or nervousness. Just close your eyes, breathe calmly, in and out, while concentrating on your breathing. Imagine you have already landed somewhere safe and warm. Visualize a safe and happy flight.