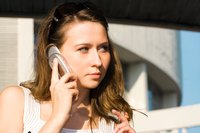 Business communication is more than just verbal and written correspondence -- it also includes person-to-person interactions and visual presentations. Recent trends in technology have enhanced communications through both software and hardware. Hardware innovations such as multidimensional mobile phones and interactive tablet PCs have helped employees to stay productive in remote locations. Software technology is changing the way employees interact and how meetings are conducted.
Mobile Phones
According to a recent survey by the Pew Internet & American Life Project, a non-profit research group, 85 percent of adults own a mobile phone, and that number jumps to 95 for people under 30. New mobile phone models have changed the way business people communicate, enhancing effectiveness and increasing productivity.
Business people are using multifunctional cell phones for more than just talking. The ability to email and instant message on portable phones enables managers to lead projects and keep abreast of progress. Moreover, a business person can download, edit and send documents to an entire team, increasing the level of interactivity she can have with colleagues on the go.
Tablet PCs
Interactive flat-screen monitors were developed in the 1980s, but were made more cost-effective, touch-sensitive and scalable in 2006. The technology was then translated into devices from digital cameras to computer monitors. One of the more recent applications of the technology is the tablet PC, a flat, touch-friendly portable device that allows the user to view and display multimedia presentations among other things.
This interactive tablet has changed the way business development managers interact with clients. Because a large part of client interactions is based on visual presentations, a multidimensional hand-held presentation can further drive home pertinent selling points.
Cross-Device Operating Systems
Operating systems have been designed to work well across multiple platforms, such as mobile phones, mini-computers, tablet and power PCs. Any two devices that share an operating system can be synchronized to increase productivity.
Advances in operating systems have helped to enhance communications in mobile phones and other portable devices, keeping communication applications running simultaneously. These applications include web browsing, instant messaging, video conferencing, email, word processing and telephone. For example, a well-functioning operating system enables a manager to simultaneously talk on her phone and send an email.
Social Media Applications
Companies with over 1,000 employees are more likely to use social media for internal communications, a survey by "Social Media Today" indicates. Though social media is most commonly used to connect with customers, it can also help employees communicate with each other.
Social media is slowly replacing the paper memo in some offices, as interoffice instant messaging, blog posts and productivity threads (long strings of emailed conversations) can help keep a record of important briefings as well as inform personnel of departmental changes. Additionally, internal webcasts and blogs can be used for training, briefings or announcements.
Video Conferencing
Managers are using video chat and video conferencing to connect better with employees. A Citrix survey showed that workers in their 30s and 40s are integrating video conferencing into everyday business communications.
Video conferencing is used to enhance communications, helping people to cross physical barriers and meet on important business matters. And because not every business situation warrants a mass meeting, managers and employees have begun to see the value in video chatting with individual team members. This software can help to quickly alleviate problems that could take longer to iron out with other forms of communication.