Because beauty lies in the eyes of the beholder, the flowers you consider the prettiest may not match your neighbor's opinion of the same topic. In fact, with all the different types of flowers that grow around the globe, opinions of the prettiest flowers may vary as much as fingerprints. However, flowers commonly sold at floral boutiques may lie at the top of many people's list of the prettiest flowers.
(Tim Platt/Stockbyte/Getty Images)
There are more than 200 species of rose, including both naturally occurring varieties and synthetic hybrids. These roses occur naturally only in the Northern Hemisphere in continents such as North America, Europe and Asia. Of those 200-plus species, horticulturists classify roses into three distinct categories, according to growing patterns. These groupings include roses that grow on bushes, shrubs and those roses that seem to climb like vines. Roses naturally occur in shades of white, pink, red, orange and yellow, as well as stripped combinations of those colors. A few rare varieties of roses bloom in shades of green and purple. Black and blue roses do not occur naturally but can be produced with the addition of dye to fresh-cut roses.
Hemera Technologies/AbleStock.com/Getty Images
Many homeowners and florists enjoy the simple flowing lines and deep colors provided by tulips. Preferring temperate weather regions, tulips originally grew across Europe and Asian, as well as parts of the Middle East. Today tulips grow throughout the world in more than 100 natural and hybrid varieties. The cupped blooms of the tulip produce in the early spring, emerging from underground bulbs. Blooms of the tulip appear in shades of yellow, green, orange, pink, red, peach, bronze, burgundy, plum and purple.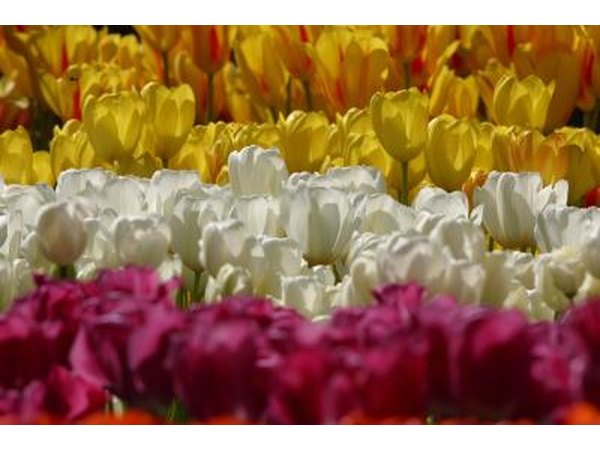 Hemera Technologies/AbleStock.com/Getty Images
Lilies bloom from bulbs, just as tulips and include three, four or six large petals per bloom, depending on the exact species. Numerous blooms appear on a single lily stalk and produce in bell, bowl and trumpet shapes. Along with a beautiful appearance, lilies also produce alluring scents and offer themselves in wide color varieties that include shades of yellow, orange, red pink and white, as well as two-toned varieties. Lilies occur naturally within the Northern Hemisphere, majorly centered in Asia and China and produce blooms throughout the year, according to the specific variety.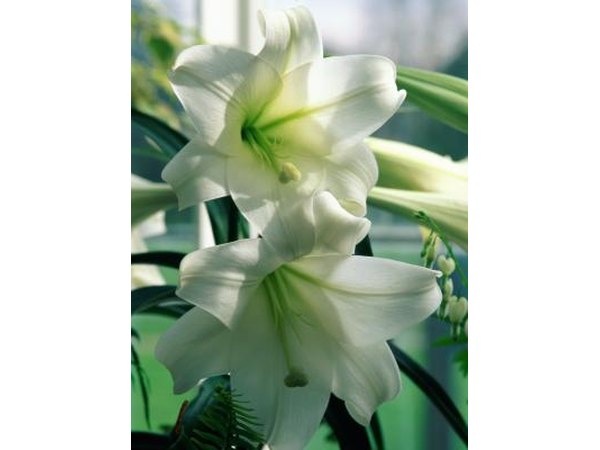 Jupiterimages/liquidlibrary/Getty Images
Promoted By Zergnet