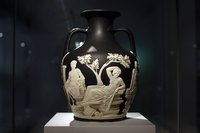 Wedgwood pottery has been around since 1759, and its jasperware and neoclassical designs nearly that long. Wedgwood jewelry for men and women -- necklaces, earrings, tie bars and cufflinks, among others -- is still making plenty of cameo appearances more than 250 years later.
Classic Pottery and Jewelry
Josiah Wedgwood invented jasperware clay -- jasper is a type of quartz -- in 1774. Wedgwood pottery, and also jewelry, is best known for bas relief designs on a clear, soft blue that has become synonymous with the name. Cameos of neoclassical statues or women's silhouettes were a fad in Victorian times and have gone in and out of fashion since. Wedgwood also sells cameo jewelry on pink or black backgrounds, with palladium or gold plate behind the jasper face. Men's jewelry is available in sailing ship, prancing horse or rampant lion designs.
Vintage and Modern Looks
If you have vintage Wedgwood jewelry you'd like to find out about, plenty of collector sites can help. It's also easy to incorporate into your modern looks. Women can group a cameo necklace with pearls and other jewelry, pin it on a scarf ato tie around a handbag, or give it an update by wearing with boots and jeans. Tie tacks and cufflinks, while not essentials as they once were, add a classic touch to a man's wardrobe. "Esquire" suggests a heraldic look -- the lion, perhaps -- for a lord of the manor presence.