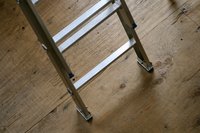 The Occupational Safety and Health Administration (OSHA) requires that all portable ladders meet requirements set forth by the American National Standards Institute (ANSI). Testing standard ANSI 14.2 is specific to metal ladders and requires ladder safety guidelines, under 29 CFR 1910.26, to be followed. OSHA can site any violations found in the workplace, in accordance with this standard.
Construction
Construction requirements for portable metal ladders keep the user's safety in mind. As outlined by sdbuildingchapter.org, the metal should be noncorrosive and free from sharp edges. Spacing between rungs must be uniform and should not exceed 12 inches. Rungs must also be treated for slip resistance.
Care
Ladders must be properly maintained. Under ANSI 14.2, the Department of Labor requires immediate and mandatory inspection of any ladder that has fallen. The integrity of ladder rails, rungs, and hardware should be checked if it has been involved in a fall or similar accident. A damaged ladder must be clearly marked and made unavailable until it can be properly repaired or replaced.
Use
In 2009, the Bureau of Labor reported 617 fatalities due to falls. Of these fatal incidents, 20 percent (or 123) were falls from ladders. Workers should be properly trained on safe ladder use. The Department of Labor provides use guidelines under 29 CFR 1910.26 of the ANSI standard. This section includes instructions for safe placement of the ladder and clearly advises that ladders should only be used for their intended purposes as specified by the manufacturer.
Ladder Safety Plan
To help prevent falls in the workplace, OSHA has mandated that companies whose workers use ladders maintain an approved safety plan. One way to comply with this requirement is to have a written ladder safety plan available that outlines proper use. All workers should be trained to follow this plan.