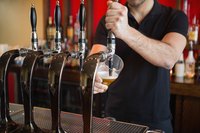 Beer displays can help make or break how many beers you sell. If the display is eye-catching and appealing, people want your beer; if it is a weak display that blends into the others, people won't even notice the beer. Appeal to the sports in your city and the fans when making your displays.
Crates
Wooden crates can help create an effective display case. Use the wooden crates that are the type you would find on cargo ships. Put light, summer beers in these and use the crates to create a topical island display. This looks appealing to people during the hot summer months when people want to have refreshing beers outdoors.
Colored Boxes
Cases of beers come in different colors, so use this to your advantage. If you live in Chicago, during football season, stack blue boxes of beer and use silver or red boxes to spell out "Go Bears" in the display. You can create footballs using brown and silver boxes. You can also stack these boxes around a green mat and create a football stadium out of the boxes.
Inflatable Characters
Use inflatable characters to point people to the display. Let your imagination and sense of humor come into play. Pick easily recognizable characters that can tickle the funny bone.
Wooden Display Cases
Throw a spotlight on your better beers by placing them in a fine wooden display case. Consider the color of the beer when choosing the type of wood. For example, dark beer will stand out in a polished oak case. Lighter beers will benefit from the contrast a mahogany case can provide.