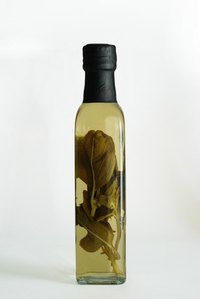 Ridding your home of bacteria with vinegar is an effective alternative to the use of harsh chemicals. According to Gina Marino, Good Housekeeping's microbiologist, vinegar effectively kills 99.9 percent of bacteria. Current research by MicroChem Lab Inc. in Euless, Texas, reports that by properly using a vinegar and household bleach solution, it can effectively disinfect and sterilize all surfaces within 20 minutes.
E. Coli O157:H7
Scientifically known as Escherichia coli O157:H7, this strain of food-borne illness derives mostly from consumption of undercooked and contaminated ground beef, swimming in or drinking contaminated water and eating contaminated vegetables. E. Coli is transmitted via the fecal-oral route, and causes hemorrhagic diarrhea, and at times kidney failure. Children and the elderly are at the highest risk of this sometimes fatal bacteria. Spraying straight 5 percent vinegar onto all food surfaces after use will kill any possible E. coli left from the contaminated food..
Salmonella
Most commonly known as food poisoning, salmonella occurs with the ingestion of contaminated foods. Salmonella may be contracted through the consumption of raw meat and eggs, contact with excretions from humans and animals sick with the disease, polluted surface or standing water, thawed poultry left in contaminated melt water, and contact with reptiles such as snakes and turtles. Proper cooking times and temperatures, and practicing proper hygiene is the best defense against contracting the disease. Spraying all food and pet surfaces with 5 percent vinegar will kill the bacteria salmonella left behind from the contaminant.
Shigella
Closely related to E. coli and salmonella, shigella is contracted through the consumption of contaminated food sources. Shigella causes dysentery in humans and apes, which results in the destruction of epithelial cells of the intestinal mucosa in the rectum and cecum. Fever, diarrhea, vomiting, cramps, nausea and flatulence are the common symptoms of the disease, along with stools that may contain pus, mucus and blood. Shigella is effectively killed when straight 5 percent vinegar is sprayed on all food surfaces.