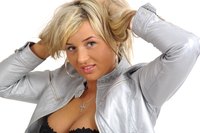 Wide blond chunks are used to create an overall, multifaceted hair color. The hairstylist will choose a section of hair and place wide chunks of it on the foil for application of the lightning solution. It is considered an edgier look than smaller highlights and is one of the longer-lasting trends in hair color.
Long Hair
High-contrast, chunky blond highlights explode on long, straight hair, whether it is a blunt or razor cut. The highlights are highly visible and make a fashion statement. When long hair is roller set or curled, the thick blond highlights resemble ribbons and add to an overall edgy but romantic look. High-contrast chunky, blond highlights add a trendy feel to long hair, while low-contrast chunky, blond highlights add a subtle brightness.
Layered Bob
Wide blond highlights in a layered bob impart youthfulness—whether it is a choppy layered bob or long bob. High-contrast, chunky, blond highlights become edgy and trendy if the contrast is great. A low-contrast, chunky, blond highlight is less edgy and will brighten a more conservative look.
Statement Bangs
Statement bangs stand out when combined with wide, blond highlights. The highlights make a strong impression when they are high contrast and are subtle when they are low contrast. Statement bangs are different than regular bangs in that they are prominent, thicker and a focal point of the haircut. Wide blond chunky bangs are trendy, but the trend of statement bangs has lasted several seasons. Square and round-shaped faces should go for side-swept or asymmetric fringes.