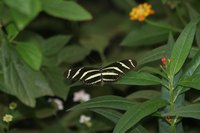 More than 20 percent of the world's oxygen supply comes from the Amazon Rainforest. Over 5 million species of animals, plants and bugs make tropical rainforests their home; that's over half of the wildlife in the world. Over 3000 fruits are found in rainforests, and 121 drugs prescribed across the globe come from plant-derived sources. It is no doubt that rainforests are a great wonder of nature.
Double Coconut
The double coconut has a scientific name of lodoicea maldivica and is a member of the palm family. Its name comes from its appearance: two coconuts that appear to be joined together. It is the largest seed in the plant kingdom. It takes one whole year for the seed to germinate, and then another whole year to simply grow one leaf. After a long time, the plant can reach 100 feet high, 20 feet long, and 12 feet in diameter. It can be found off the coast of Africa, bordering the Indian Ocean.
Jackfruit
Jackfruit, also known as artocarpus heterophyllus, is a member of the mulberry family. It is found throughout tropical rain forests, but originated in southeast Asia. Each jackfruit can weigh up to 100 pounds. The fruit spring out from the trunks and branches of the tree it grows on. The jackfruit is yellow or green in color, and covered in lumps.
Rubber
Rubber also goes by the name of hevea brasiliensis and is a member of the spurge family. Rubber plants can be found in southeast Asia, as well as the Brazilian Amazon. The plant produces a latex sap which is mixed with heated water and the result is a ball of rubber. Natural rubber is not commonly used today.
Cassava
The cassava plant has a scientific name of manihot esculenta and is a member of the spurge family. It can be found in any tropical rainforest, but is native to South America. From the plant comes a starch that is eaten by over 500 million people. Some types of this plant can be toxic, so take precaution when preparing it for a dish. It is an ingredient in Tapioca pudding.
Bamboo
Bamboo, which goes by the name of bambusa and is a member of the grass family, is the largest grass in the world. It is found throughout tropical rainforests. Various countries have numerous uses for bamboo. It can be used to build rafts and huts because of its sturdy nature.
Banyan Tree
The Banyan Tree is a common tropical plant that goes by the scientific name of ficus benghalensis, and is a member of the mulberry family. It starts out by growing off another plant, and after years of growth it sends out roots which become new trunks. It can spread itself over many acres this way.