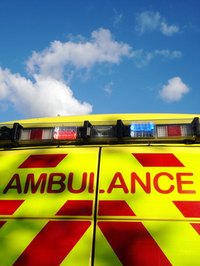 Because of advances in technology, industries are adopting alternative methods to reduce costs and save resources, such as keeping digital records. As reported by Michael Walsh and Nihar Ganju in a 2009 article for TechNet magazine, these changes may mean a shift in the way the medical industry does business. All kinds of insurance -- including those outside the medical industry, such as auto insurance -- may move toward a more universal claim form to maximize the benefits of these changes.
Waste Reduction
Walsh and Ganju indicate that the medical industry generates as much as 6,600 tons of waste daily in the United States alone. Some of that is paper waste generated by the multiple documentation requirements of separate insurance companies. Joann Frieden of the Med Page Today website reports that the lack of a universal insurance claim form necessitates increased paperwork for successful claims, including addendums, letters and other documentation policyholders must submit to individual insurers and providers. Universal insurance forms thus could help insurance and medical companies be more environmentally friendly.
Savings
The lack of a universal insurance form increases the amount of administrative work that those in the insurance and medical industries must do. Bonnie B. Blanchfield, Sc.D., of Massachusetts General Hospital in Boston, and colleagues, in a study published in the June 2010 issue of Health Affairs, report that, in 2006, one medical organization lost nearly 12 percent of patient revenue -- about $45 million -- because of this administrative complexity, with $5.6 million linked specifically to processing and billing. Adoption of a universal insurance form could reduce these losses and translate into increased profit for the hospitals and physician offices. The study by Blanchfield and colleagues found that medical industry could save $7 billion annually with a universal claim form and a single set of submission and payment rules for all health plans.
Record Consistency and EMRs
Some hospitals and doctor's offices have adopted electronic medical record (EMR) systems to make medical services safer and more efficient. However, only about 25 percent of hospitals and 20 percent of physician offices have adopted EMRs, as of 2009, according to TechNet's Walsh and Ganju. The percentage of hospitals and offices that use EMRs may have been kept low in part because an efficient EMR system relies on consistent standards, including "common record architectures [and] structures," according to the Open Clinical website. A universal insurance form may provide some of the records consistency necessary to reap the benefits of EMRs.
Increased Treatment
Reduced administrative burdens and the efficiency of consistent records that a universal claim form would enhance could give administrators and physicians more time to see additional patients and handle more records -- that is, universal insurance forms indirectly may result in more people receiving the treatment they need.