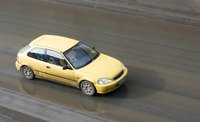 Your auto insurance rates are affected by the area where you live, your age and driving record and the number of miles you drive each day. Even your choice of vehicle can have a big impact on your insurance rates. High-end car models are typically more expensive to insure because the cost of accident replacement is often higher. There are several cars in cheaper insurance groups, however.
Mazda Tribute
According to Insure.com, the Mazda Tribute I was named least expensive car to insure for the year 2010. The Mazda Tribute I is a two-wheel drive four-door sport utility vehicle priced between $20,000 and $28,000 for the 2010 models. The Tribute offers a roomy interior with spacious seating for four to five passengers and ample cargo space. With a no-frills trim package, the Tribute is basic and uncomplicated with low repair costs. The National Highway Traffic Safety Association assigned the Mazda Tribute I five stars in front and rear crash safety tests. It scored three out of five stars in rollover crash safety tests.
Honda Odyssey LX
The Honda Odyssey also is ranked as one of the least expensive cars to insure by Insure.com, and it is ranked the cheapest minivan to insure for 2010. The Honda Odyssey is priced between $26,000 and $40,000 for all equipment packages. The Odyssey scores five stars in front, rear and side crash safety tests administered by both the National Highway Traffic Safety Association and the Insurance Institute for Highway Safety. The Honda Odyssey also scores five stars for rollover crash safety tests by both organizations. Drivers of minivans also are considered to be a lower-risk insurance category, which translates to lower insurance rates for minivans like the Odyssey.
Ford Taurus
According to Bankrate.com, station wagons and family sedans are included in the class of family-oriented vehicles that are less expensive to insure because they are generally involved in fewer accidents and automobile thefts. The Ford Taurus wagon and Ford Taurus sedan fall into the category of least expensive vehicles to insure. The Ford Taurus has earned a five star rating for both driver and passenger front and side crash tests. The Taurus also comes with additional features to help avoid accidents such as a radar-enabled advanced collision warning system and the Cross Traffic Alert system that warns drivers of approaching traffic.