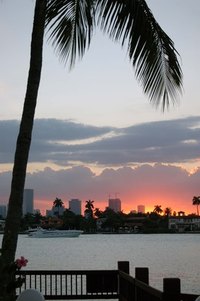 Miami is known to many as a beach and party destination, but it's also vibrant city filled with restaurants, trendy shops, hip nightclubs and cultural experiences. And for the traveler who wants to splurge, there are also plenty of luxury hotels to choose from.
The Setai
The Setai offers an intimate oceanfront resort situated in the heart of South Beach, specifically in the world-renowned Art Deco neighborhood along Collins Avenue. It features tropical gardens and sparkling pools just at the edge of the Atlantic Ocean. This hotel provides super luxury-style rooms and suites, and a penthouse suite with a rate of $28,000 per day, as of September 2010.
The Setai has a total of 75 opulent guest rooms and 50 suites all bearing the imprint of legendary hotelier Adrian Zecha. The hotel features grand boutiques, al fresco dining areas, a world-class spa, bars and clubs, a state-of-the-art fitness center, and other amenities and facilities fitting for luxurious stays.
The Setai 2001 Collins Ave. Miami Beach, FL 33139 888-625-7500 setai.com
Casa Casuarina
Casa Casuarina is a member's club in Miami Beach that's also open to the public for an average of $2,500 per night, as of September 2010. It's a former home of designer Gianni Versace and is now a private club with celebrity members like Oliver Stone and Jon Bon Jovi. (A prospective member is required to pay a one-time fee of approximately $40,000.)
This Moroccan-inspired hotel with intricate mosaics and marble floors features Versace's own Italian suite, which is available for rental. Guests can choose among 10 suites, including elegant Italian and Egyptian decor. In addition, on-site concierge and butler services are offered by Quintessentially, an elite global club offering luxury lifestyle services to its members.
Casa Casuarina 1116 Ocean Drive Miami Beach, FL 33139 305-576-8003, 305-672-6604 casacasuarina.com
Fontainebleau
Fontainebleau is a luxury hotel with 1,504 guest rooms, including 846 rooms and suites located in the two original Fontainebleau buildings and another 648 suites in the new all-suite towers. Most of the rooms and suites offer spectacular views of the Atlantic Ocean.
Staying at a VIP suite can cost more than $1,200 per night, as of September 2010. Amenities for guests include triple sheeting with custom bedding and Egyptian cotton, an in-room private bar, marble baths and a 20-inch iMac computer. A Penthouse and Presidential Suite are also available.
Fontainebleau 4441 Collins Ave. Miami Beach, FL 33140 800-548-8886 fontainebleau.com