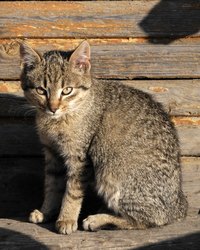 Squamous cell carcinoma, a type of oral cancer, can often effect cats, especially those advanced in age. If caught early enough, most cases of feline tongue cancer can be treated with surgery and chemotherapy. That is why it is important to recognize the symptoms of tongue cancer in cats. This is especially true if you are a smoker, as living with a smoker can cause a cat's risk of developing an oral cancer to increase. The symptoms of tongue cancer in cats are fairly recognizable.
Loss of Weight
A growth on the tongue of your pet may make normal eating awkward or difficult. The disease may also cause a loss of appetite. If you notice that your cat has lost weight or has difficulty eating, take it to your veterinarian.
Bleeding from the mouth
Oral tumors in felines are quite unprotected. Thus, they are likely to become infected or ulcerate, which can cause bleeding from the mouth. Rule out other causes of bleeding before you suspect oral cancer.
Bad Breath
Cats with cancers of the tongue are also likely to develop halitosis. The infection of the tumor can give your cat's breath a foul odor. You should be monitoring your pet's oral health regularly. Halitosis can be a cause of concern, but bad breath can have other causes as well. Observe the condition further, because if it is a case of oral cancer, you want to be sure that you catch it early.
Drooling
As the tumor grows on your cat's tongue, your cat may begin to drool more than normal. Drooling can also be a sign of relaxation or contentment, but if the drool is both excessive and foul smelling, a squamous cell carcinoma may be the culprit.
Bad or No Grooming
An infected or ulcerated tumor may make grooming painful for your cat, so he may avoid it. If your cat has stopped grooming and also has other oral symptoms, a squamous cell carcinoma may be highly suspect.
Tiredness
If the cancer has reached advanced stages, you may notice that your cat has less energy than he normally does. Because squamous cell carcinoma generally effects older cats, this may not be the best measure of the disease, but if you notice this symptom in conjunction with others, it could suggest that your cat is suffering from tongue cancer.