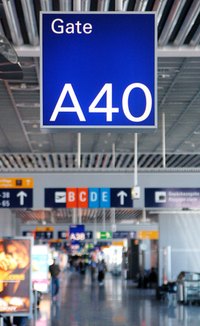 Airport safety procedures are one of the burdens that comes along with traveling. With security measures constantly being altered and tightened, it is hard to stay up to date with the latest airport safety rules. However, staying safe and going through security calmly and without any problems should be on every traveler's agenda.
Prepare
There's no need to make a fuss about long security lines. Extensive security measures are in place for your safety and for the safety of others. Always try to arrive at the airport three hours before your flight in order to be checked in and to get to your flight on time. Be prepared to stand in line in order to get to security.
Carry on
The Transportation Safety Administration (TSA) is responsible for imposing and carrying out all airport safety rules. It helps to ready yourself for security. Take off any belts, jackets and shoes while in line and empty out your pockets. Also, sort your carry-on luggage. Throw out any drinks and remove laptops and other large electronic equipment such as camcorders and DVD players. Also remember to have all liquids in a clear bag or cosmetic case and remove this from your luggage as well. You are only allowed to bring a plastic bag about a quart large filled with cosmetics or other fluids, each having a volume of less than 100 milliliters (3.4 ounces). Larger liquid items such as medication or baby formula may be carried on but need to be declared at security.
Prohibited Items
Certain items are prohibited, may not be in your carry-on luggage and will be removed and disposed of at security. These items include all sharp objects such as knives, razors and scissors; sporting goods such as baseball bats, firearms, explosives like fireworks, hand grenades or dynamite, tools such as hammers, axes or saws, chemicals such as chlorine, gas cartridges or spray paint and flammable items such as aerosols, gasoline or lighter fluid. Loose lithium batteries are now also not allowed on flights.
Identification
A photo identification must be shown by all adult passengers in order to get through security and to board a flight. Acceptable identification includes a U.S. passport or passport card, foreign passport, state issued identification card, permanent resident card, green card or driver's license.
Security Tips
Wear clothing that can easily be removed if necessary. Pack your carry on neatly in layers so that everything can be easily X-rayed. Try placing a layer of clothing, then some electronics, then some clothing and then cosmetics in a plastic bag on top. Do not wrap gifts, since you will be asked to unwrap them. Avoid taking jars or containers of food since they may be taken away from you. If traveling with pets, hold your pet in your arms in order to send the carrier or kennel through the X-ray. If traveling with children in strollers, you will be asked to fold the stroller and send it through the X-ray machine as well. Always arrive on time, and most importantly, always think before you speak. Arguing or being aggressive may make you a suspect and delay you.
At the Airport
Always report a suspicious package or activity to a security officer. Airports are usually chaotic and lots of activity may go unnoticed. Reporting something that seems suspicious to you may help keep you and others safe. Always abide by airport rules and avoid acting belligerent. Never leave luggage, children or pets unattended so as not to create suspicion or to lose what you love. Being extra careful and alert is first and foremost the behavior that will get you onto your flight quickly and safely.