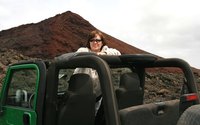 When it comes to SUVs and off-road vehicles, the Jeep is the vehicle of choice for many people. These versatile and stylishly classic vehicles are often requested by those wishing to rent transportation while on a trip. For this reason, many rental companies choose to keep at least a few Jeeps in their fleet for these occasions. Most of the major car rental companies in America have Jeeps available.
Thrifty
Thrifty is a rental car company in 472 American locations and hundreds more around the world. The Dollar Thrifty Automotive Group website claims the company maintains an average fleet of more than 148,000 vehicles. Some of these vehicles are Jeeps.
The standard SUV option when renting from Thrifty is the Jeep Grand Cherokee Laredo. This Jeep model offers room for five passengers and their luggage.
For those who want to feel the rush of wind through their hair, Thrifty offers the Jeep Wrangler as a mid-size open-air, all-terrain option. The Wrangler has room for four and light luggage.
Thrifty Rent A Car, Inc. Tulsa, OK 74153 888-400-8877 thrifty.com
Budget
Budget Rent A Car, established in 1960 in Chicago, chose its name to appeal to the cost-conscious traveler and became a public corporation in 1987. The company employs 2,800 employees worldwide with 831 domestic locations and others scattered throughout numerous countries.
Renters can get behind the wheel of a Jeep Grand Cherokee by requesting the standard sized SUV when making reservations. This five-passenger, four-door vehicle has storage room for three large bags and two small bags and can get up to 20 miles per gallon on the highway.
In addition to the Grand Cherokee, Budget also has the Jeep Wrangler available by special request.
Budget Rent A Car 6 Sylvan Way Parsippany, NJ 07054 973-496-3500 budget.com
Alamo
Alamo Rent A Car was founded in 1974 with four locations in Florida. It was instantly popular with customers because it was the first to offer unlimited mileage on their rentals. It was also the first to offer real-time booking online. The concept worked and the company now has hundreds of locations in the United States, Canada, Mexico and throughout the Caribbean, Latin America and Asia.
Customers at Alamo can rent a Jeep Wrangler at most locations. This vehicle has a removable top and four-wheel drive. It seats four passengers and two pieces of large luggage comfortably.
Alamo Rent A Car 600 Corporate Park Drive St. Louis, MO 63105 314-512-1000 alamo.com