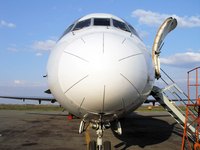 Canada takes up a vast space: It is the second largest country in the world, with an area of 3.9 million square miles. In many cases, the only practical method to get from point A to point B is to fly. In fact, some remote areas of Canada have no road or rail connection to the rest of the world, so flying is the only option.
Air Canada
Air Canada is Canada's largest airline and offers service to 170 destinations on five continents around the world. Air Canada serves more than 32 million customers annually and is a member of the international Star Alliance Network with other airlines such as United Airlines, Singapore Airlines and TAM. Air Canada offers many of its short-haul flights through its regional partner, Air Canada Jazz.
Air Canada Customer Relations P.O. Box 64239 RPO Thorncliffe, AB T2K 6J7 1-866-584-0380 aircanada.com
WestJet
WestJet started operations as a Western Canadian regional carrier in 1996 but now operates daily flights across Canada as well as to U.S., Mexican and Caribbean destinations. More than 80 percent of WestJet's 7,800 employees own shares in the company, which WestJet hopes helps to create a culture of customer service.
WestJet 22 Aerial Place N.E. Calgary, AB T2E 8X7 1-888-937-8538 westjet.com
Porter Airlines
Porter Airlines, based in Toronto, offers flights to destinations in eastern Canada, such as Montreal, Ottawa and Thunder Bay, and to destinations in the north-central and northeastern United States, such as Boston, Chicago and New York. All Porter flights are on 70-seat, Bombardier Q400 aircraft.
Porter Airlines Billy Bishop Toronto City Airport Toronto, ON M5V 1A1 1-416-203-8100 flyporter.com
Air North
Air North, which has been in operation for more than 30 years, offers daily flights from and to locations in the Yukon, British Columbia, Alberta, Northwest Territories and Alaska. Air North offers both cargo and passenger service on its fleet of Boeing 737s and Hawker Siddeley 748s.
Air North 150 Condor Road Whitehorse, YK Y1A 6E6 1-867-668-2228 flyairnorth.com
Pacific Coastal Airlines
Pacific Coastal Airlines is family owned and operated and offers daily flights from Vancouver mainly to areas up along the Pacific Coast of British Columbia. The airline has 24 aircraft in its fleet, seven of which are float planes. This allows Pacific Coast Airlines to serve many remote areas that conventional aircraft cannot reach.
Pacific Coastal Airlines Vancouver International Airport 4440 Cowley Crescent, Unit 204 Richmond, BC V7B 1B8 1-604-214-2358 pacificcoastal.com