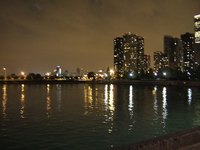 Attracting nearly 86 million visitors every year, Chicago, Illinois, also known as "The Windy City," is bustling by day–and also by night. Chicago is a vibrant, multicultural city and its nightlife activities reflect that. Share some laughs with friends at a renowned comedy club, jam to some classic blues music, sip on your favorite glass of wine or enjoy the music of a 100-member orchestra.
The Second City
Open for more than 50 years, The Second City is known for its sketchy comedy and improvisational performances. It offers shows seven nights a week in Chicago.
According to The Second City website, the shows typically consist of comedic short scenes, songs or improvisational sketches. The theater is designed with cabaret-style seating, so guests may have to share a table with other people. Food and beverages are available throughout the show.
Visit The Second City website for a calendar of current shows.
The Second City 1616 N. Wells St. Chicago, IL 60614 312-337-3992 secondcity.com
Buddy Guy's Legends
Buddy Guy's Legends is a blues club featuring local, national and international blues artists seven nights a week.
Some of the more famous acts that have performed at the club include Van Morrison, Bo Diddley, John Mayer and Stevie Ray Vaughan. Every Monday night, the club offers an open blues jam session.
Buddy Guy's Legends also has a full-service menu featuring Cajun food. The kitchen is open until midnight every day. Seating is first-come, first-served.
After 8 p.m., all guests must be 21 years of age or older.
Buddy Guy's Legends 700 S. Wabash Ave. Chicago, IL 60605 312-427-1190 buddyguy.com
Webster's Wine Bar
Open since 1994, Webster's Wine Bar is considered one of Chicago's oldest wine bars. According to the bar's website, it is home to more than 400 wines by the glass, as well as more than 500 reserve wines. Beers, dessert wines and other alcoholic beverages are also available.
Webster's Wine Bar serves small plates, cheese plates and regional dishes to pair with the wines. The bar also features classes and wine tastings throughout the year.
Webster's Wine Bar 1480 W. Webster Ave. Chicago, IL 60614 773-868-0608 dev.websterwinebar.com
Chicago Symphony Orchestra
The Chicago Symphony Orchestra is composed of more than 100 professional musicians who perform more than 150 concerts every year.
The Chicago Symphony Orchestra is also home to the Institute for Learning, Access and Training, which offers various classes and workshops for aspiring musicians.
For a current schedule of nightly performances and classes, visit the Chicago Symphony Orchestra website.
Chicago Symphony Orchestra 220 S. Michigan Ave. Chicago, IL 60604 312-294-3000 cso.org