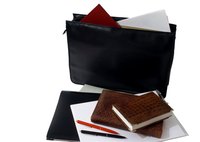 Companies use process documentation to capture the pathway of a project for evaluation and future reference. Process documentation assists a company in remembering and refining skills to discover the best practices for every new project. According to the Westfall Team, standardized process documentation is essential for use in training, management and tools support. Several methods exist to document processes within an organization.
Gathering Information
Gathering the information is an important method used in process documentation as it provides the bulk of information needed to describe the project. Methods to gather information include interviews, meetings and reports.
Interview stakeholders or key persons involved in the project to get information on how they assess the process. Arrange target group discussion meetings to capture the views of people directly affected by the project. Require team members involved in the project to fill out reports that track progress on tasks, schedules and activities related to the project. Attend and document all events organized to promote or discuss the project. Use a notebook, camera and tape recorder (if necessary) to document these meetings. Take photographs before and after completion of the project.
Summary
According to knowledgeleader.com, process documentation should include a summary, a detailed narrative and a process flow diagram. Get started with the summary by giving a brief description of the task to fulfill by this process, the location of the project and the target to achieve.
Outline the different required steps to take during the process and who is responsible for completing each step. Keep the summary short and clear. Don't elaborate on the steps too much. Try to keep the process documentation to a minimum number of pages.
Narrative
The detailed narrative is a method to describe the successes and stumbling blocks of a process. Include information about what was actually done to achieve the goal, what modifications were made to the original plan and why. Describe all factors and indicators that attributed to the success of the project. Review the reports of team members to identify these factors. Describe any aspects of the process that failed; what the obstacles were and how they occurred. Identify the challenges and possible solutions to avoid failure in future processes.
Flow Diagram
Organizations use flow diagrams to document the process visually. A simple flow diagram of a process is much easier to understand than lengthy descriptions.
Flow diagrams typically illustrate the relationships between the different tasks of a process. Compile the process flow diagram by drawing the main tasks within the process. Identify the key groups responsible for each task and list them on the diagram. List the steps needed to complete each task on the flow diagram.