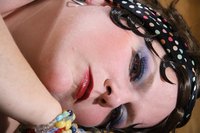 The 1920s bringing forth significant changes in fashion. World War I was over, and people wanted to leave the seriousness of war time behind. They were looking to relax and have a good time. It was a time of indulgence and carefree attitudes. Men's and women's fashions in the 1920s reflected the changing times.
Jewelry Choices
The Art Deco movement inspired jewelry choices of the 1920s. Costume jewelry became very popular during this time. A wide variety of costume jewelry could be worn with casual, sporty clothing or formal wear. Pieces made of affordable plastic were popular, along with more expensive items made of silver and gold. During this time, jewelers began experimenting with platinum. They decorated this jewelry with beautifully cut and polished semi precious and precious stones.
The jewelry of the 1920s was designed to be modern and sophisticated with clean lines and geometric shapes. Styles were inspired by China, Japan and Egypt. Women wore beads, bracelets, pendants earrings, watches and brooches. Men wore cuff links, tie pins, belt buckles and watches.
Fashionable Hats
Cloche hats were the fashionable choice for women during the 1920s. This hat style complemented the trend toward short, straight hairstyles. Cloche hats fell over the eyes to cover the forehead since foreheads were considered unfashionable during this era.
Men typically wore fedora or bowler hats with formal evening wear. During the summer, panama hats were commonly worn. Newsboy hats were a popular choice for casual wear.
Women's Clothing
Suits for women during the early 1920s included a belted jacket with a longer, fuller skirt with a hemline that rested along the calf. The bodice of the suit jacket was loose, sometimes oversized.
The most obvious feature of the popular shift dresses of the 1920s was a straight bodice with no defining waistline. The dresses sported prominent collars, and knife pleats skirts that fell to the knee.
Men's Clothing
Men wore Sacque suits during the day in muted, earthy colors like blue-gray, putty and peach. Silk ties typically made of silk with geometic prints and diagonal stripes, held with a tie pin, complemented these suits.
Knickerbockers and knickers--a shorter version of knickerbockers--made up a popular casual dress style for men during the 1920s. The style variations of knickerbockers depended on how far below the knee it reached. For example, they were referred to as plus fours, plus sixes, plus eights or plus 10s depending how many inches below the knee they fell. Men wore knickers with Norfolk coats and golf coats with large patch pockets characterized by a shoulder yoke.
Shoe Styles
Popular women's dress shoes in the 1920s include basic pumps, Mary Janes, Oxfords, button-up boots, and t-straps. Evening shoes were covered with brocade, velvet, satin or silk fabric, with either a curved heel or blocked heel.
Men chose lace up shoes as the style of choice in the 1920s. They preferred black patent leather shoes for formal wear. During the summer months, two-tone white and tan shoes known as "spectators" were commonly worn. Oxfords were also popular men's shoes during this time.