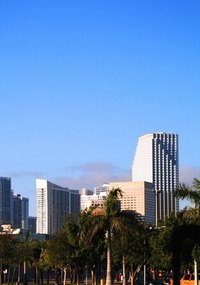 Miami may be known for its famous beaches, upscale shopping and exclusive nightclubs, but the city has other attractions for those who prefer activities outside of the glitz and glamour. Residents and visitors who are looking for things to do on a Sunday in the city have a choice of relaxing, free and affordable activities in the subtropical metropolis.
Historic Churches
If you are visiting Miami or a resident who wants to learn about the city's religious and architectural history, attend a service at a historic church in downtown Miami.
Greater Bethel is an African Methodist Episcopal Church (AME) at the heart of downtown Miami. The church is an institution in the African American community and is home to the oldest continuing black congregation in the city. Formed in 1896, the church broke ground on the current building in 1927. It features Mediterranean Revival-style architecture, and is listed on the National Register for Historic Places.
Gesu Church and Rectory, home to the oldest Catholic parish in Miami, is also downtown. Founded in the late 1890s, the church's current pink Mediterranean Revival-style building sits on land donated by railroad tycoon Henry Flagler. Construction began on the church in 1920. It features a tower, a large portico and an elaborately designed interior altar. Gesu is listed on the National Register for Historic Places.
Parks
The Miami-Dade County Parks & Recreation Department oversees the third-largest county park system in the country. The parks offer activities to residents and visitors year-round, seven days a week. You can spend a Sunday visiting park attractions such as the MetroZoo, play golf at a public course or play tennis at the world-class Crandon Tennis Center, which is the home of the Sony Ericsson Open. The park system also offers guided tours of beaches, wildlife areas and wetlands through its EcoAdventures Excursions programs. If you just want to spend the day relaxing, however, you have thousands of acres of open space to get lost in your thoughts or to enjoy a Sunday picnic. If you need to stay wired, head to Tropical Park, which offers free Wi-Fi to visitors.
Farmers' Markets
Area farmers and small business owners sell their products on weekends at the city's Farmers' markets. Markets open early in the morning and offer entertainment for shoppers. The Florida Department of Agriculture and Consumer Services lists nearly a dozen Farmers' markets in the Miami area on its website. Many markets are open year-round and offer prepared foods so you can enjoy fresh, organic fare instantly. Products include tropical fruits and vegetables native to South Florida as well as extensive offerings for vegetarians and vegans. Markets are located all over the county, from the beaches to the historic Overtown area.