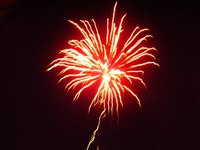 Fireworks explode each July 4 at several Dallas-area campgrounds in Texas. Texas can be an outdoor lover's dream, with hundreds of miles of camping trails, dozens of state parks and private campgrounds, sprawling fishing lakes and reservoirs. National and state pride often play a central role in Texas culture, a combination conducive to a patriotic outdoor fireworks show.
Joe Pool Lake
Fireworks explode above Joe Pool Lake each July 4, as dusk falls at around 9:45 p.m. The lake features a campground, but it's all located within a public, city park, so the fireworks draw large crowds each year. There is a $15 fee per spectator vehicle containing up to six people, as of summer 2010. There is a $2 charge for each additional passenger. Joe Pool Lake is part of the 785-acre Lynn Creek Park, managed by the city of Grand Prairie just outside of Dallas. Lloyd Campground on the western shores of Joe Pool Lake features 221 camp sites, with water and 30-amp electrical hookups, concrete pads, cabins, restrooms and hot showers, picnic areas and pavilions and a boat dock.
Loyd Park 3401 Ragland Rd. Grand Prairie, TX 75052 817-467-2104 joe-pool-lake.org
The Vineyards Campground and Cabins
The Vineyards in Grapevine, Texas, just outside of Dallas, is a year-round park offering "upscale RVing (driving Recreational Vehicles) and camping." Fireworks on July 4 and throughout the summer, are only a few of the "extras" the Vineyards offers. There are full water and electrical hookups, pull-though sites, and a large covered picnic area. There is also a boat ramp, docks, fishing on Grapevine Lake, a playground, nature trail, laundry facilities and hot showers. The campground is great for bird-watching, kayaking, browsing the camp store and admiring summertime fireworks. The park is located in a forest on the shores of Grapevine Lake, halfway between Dallas and Fort Worth.
The Vineyards Campground and Cabins 1501 N. Dooley St. Grapevine, TX 76051 817-329-8993 vineyardscampground.com
Lake Murray State Park and Resort
The Lake Murray State Park campground features fireworks each July 4. Lake Murray is in Oklahoma less than an hour's drive from Dallas, and the show is one of the highlights of Lake Murray camping, according to Shop Oklahoma.
Lake Murray is the state's largest state park, with fishing, boating, camping, hiking, cabins, a restaurant and gift shop. There are also trails and paths for biking, inline skating, horseback riding and ATV riding. Lake Murray features nine RV campgrounds with more than 300 sites with full water and electrical hookups, as well as tent camp sites throughout the park. The camp provides restrooms and showers.
Lake Murray State Park 3323 Lodge Rd. Ardmore, OK 73401 580-223-6600 stateparks.com