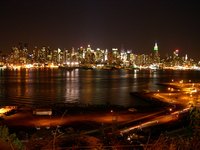 New York City is home to a number of night clubs catering to different musical tastes and styles. The majority of these clubs are open only to people 21 and older. However, people younger than 21 do have options when choosing a night club for entertainment in New York.
B.B. King Blues Club and Grill
B.B. King Blues Club and Grill offers live music for crowds of all ages. Located in Times Square, this music club features free entertainment every night of the week until 1 a.m. Blues, rap, rock and zydeco are just a few of the musical styles performed at the club. Special musical performances require guests to purchase a ticket, but admission to the restaurant area of the club is free. There is no dress code at B.B. King's Blues Club.
B.B. King Blues Club and Grill 237 West 42 Street New York, New York 10036 212-997-4144 bbkingblues.com
Webster Hall
Webster Hall is a nightclub located in the West Village of New York City. Patrons must be 19 years or older to enter the club. Webster Hall hosts many special events, such as DayGlo paint parties. Music at this club includes hip hop, rap, techno, house and dance music. Webster Hall also offers special musical performances. The club is open from Thursday through Saturday, and doors open at 10 p.m. A trendy dress code is enforced, and the club can refuse admission based on a person's appearance.
Webster Hall 125 East 11th Street New York, New York 10003 212-353-1600 websterhall.com
Santos Party House
Santos Party House is a Manhattan club offering live music events. The club features a band or musical act each night, usually in the heavy metal or rock genre. Though this club is not always open to those under the age of 21, Santos Party House offers all-ages and 18-and-over-shows at least once a week. Patrons can purchase tickets online or at the club's box office. There is no dress code at Santos, and opening hours and days vary every week.
Santos Party House 96 Lafayette St New York, New York 10013 212-584-5492 santospartyhouse.com
The Village Vanguard
Located in Greenwich Village, The Village Vanguard is a club that allows entrance to all ages. Showcasing jazz artists from all over the country, this historic spot offers a quiet club experience reminiscent of earlier jazz clubs. The club is open every night of the week, and doors open at 8 p.m. Admission fees vary depending on the day of the week, and The Village Vanguard does not enforce a dress code. Reservations are recommended.
The Village Vanguard 178 7th Avenue South New York, New York 10014 212-255-4037 villagevanguard.com