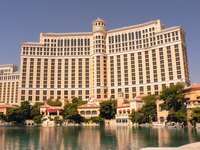 The top ten largest hotels in the world, based on number of rooms, loom on three continents and house some of the best attractions money can buy. From the Las Vegas Strip to the natural beauty of Malaysia, you probably won't often find these hotels overbooked, as they have thousands of rooms to offer.
1. The Venetian/Palazzo Megacenter, Las Vegas
Las Vegas is home to the largest hotel resort in the world, The Venetian/Palazzo Megacenter, and they don't call it "mega" without reason. This American Automobile Association (AAA) Five-Diamond-rated hotel and resort complex consists of three towers, the tallest having 52 floors. It has 7117 rooms, 19 restaurants (with James Beard Award-winning chefs), 80 international boutiques and a gondola ride along the complex.
The Venetian/Palazzo 3355/3325/ Las Vegas Blvd. South Las Vegas, NV 89109 702-414-1000 / 702-607-777 venetian.com / palazzolasvegas.com
2. MGM Grand, Las Vegas
The MGM Grand is the second largest hotel resort in the U.S. and the world. The Hollywood-themed resort opened in 1993 and boasts 6852 rooms, five outdoor swimming pools, 19 restaurants, the largest casino in Clark County, a grand spa, rivers and waterfalls. Some of its famous attractions include a lion habitat, where up to six lions appear every day. The MGM Grand Garden Arena hosts music concerts, boxing matches and award shows.
MGM Grand Hotel & Casino 3799 Las Vegas Blvd South Las Vegas, NV 89109 877-880-0880 mgmgrand.com
3. First World Hotel, Malaysia
With close to 6120 rooms, First World Hotel is the largest hotel in Malaysia and the third largest in the world. Consisting of two towers, each with 28 floors, it offers a "Fun at the Peak" theme park, food outlets, arcades, indoor water theme park, a Cineplex and Starworld Casino.
First World Hotel 69000 Genting Highlands Pahang Malaysia (603) 2718 1118 rwgenting.com
4. Wynn/Encore, Las Vegas
The Wynn/Encore hotel may only be the fourth largest in the world, but it's still an impressive two-towered resort that holds 4750 rooms. It's been awarded AAA's Five Diamonds, Mobil Five-Star, Forbes Five-Star and Michelin Five-Star awards. It was the first resort to include a luxury car dealership and the only one to have a golf course. It has a curtain waterfall that falls into a three-acre lake at its entry point.
Wynn Las Vegas / Encore 3121/3131 Las Vegas Blvd. South Las Vegas, NV 89109 702-770-7000 / 702-7700-8000 wynnlasvegas.com / encorelasvegas.com
5. Luxor, Las Vegas
Luxor brings themes from ancient Egypt to Las Vegas, and is the most recognizable hotel on the Strip due to its pyramid shape. The 350-foot, 30-story building has just over 4400 rooms, with a beam shooting out of its highest point at night. It's home to the famous LAX Nightclub, a celebrity hot-spot, as well as an IMAX motion stimulator ride and a Nile River Tour.
Luxor Hotel & Casino 3900 Las Vegas Blvd South. Las Vegas, NV 89119 702-262-4444 luxor.com

6. Mandalay Bay/THEhotel, Las Vegas
With over 4332 rooms, Mandalay Bay/THEhotel Resort is a luxury hotel casino on the Las Vegas Strip in Paradise, Nevada. It's ranked as the world's sixth largest hotel. In keeping with its tropical theme, the hotel has the only saltwater aquarium in Las Vegas, containing the third largest tank in the US; the shark reef is a particular favorite for guests.
Mandalay Bay 3950 Las Vegas Blvd South Las Vegas, NV 89119 702-632-7777 mandalaybay.com
7. Ambassador City Jomtien, Thailand
Overlooking the Gulf of Thailand is the seventh largest hotel in the world, the Ambassador City Jomtien. The hotel consists of five buildings, each containing somewhere between 150 and 2000 suites, with a total number of 4219 rooms available between them all. There are eight restaurants, bars, nightclubs, fitness facilities and Asia's largest swimming pool.
Ambassador City Jomtien Hotel 319 Chamchuri Square 16th F1. Phayathai Rd Pathumwan, Bangkok 10330 66 (0) 2160 5222 ambassadorcityjomtien.com
8. Excalibur Hotel and Casino, Las Vegas
The medieval-themed Excalibur Hotel and Casino on the Las Vegas strip has 4008 rooms, a wedding chapel within its castle-shaped exterior, a pool, restaurant and second-floor shopping.
Excalibur Hotel & Casino 3850 Las Vegas Blvd South Las Vegas, NV 89109 702-597-7777 excalibur.com
9. Aria Resort & Casino, Las Vegas
A multi-story, multi-building hotel, the Aria Resort and Casino is 4004 rooms behind enclosed glass. The newest hotel resort on the Las Vegas strip as of Sptember, 2010, it houses 4 ballrooms, 38 meeting rooms, a glass curtain wall overlooking the pool and an automation system that allows guests to control the temperature and environment in their rooms at the swipe of a card.
Aria Resort & Casino 3730 Las Vegas Blvd Las Vegas, NV 89158 702-590-7111 arialasvegas.com
10. Bellagio, Las Vegas
Known for its fountains, The Bellagio in Las Vegas is the 10th largest hotel in the world. With 3993 rooms, the Italian-inspired hotel is home to the award-winning Cirque du Soleil stage show and a Conservatory with a Botanical Garden. Its awards include five diamonds from AAA and a Mobile Five-Star Award.
Bellagio 3600 Las Vegas Boulevard South Las Vegas, Nevada 89109 702-693-7111 bellagio.com